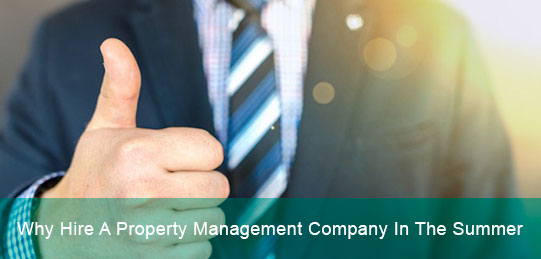 Summertime is when most couples, groups of friends and families choose to travel. This also means they often choose to reserve apartments, summer homes and other rental properties for their extended vacations. If you are a landlord or own a property you'd like to rent out for the summer, you are looking at peak prospect interest and increased competition. When faced with this situation, you're better off hiring a professional property manager. Go to www.latitudelimited.com for more info on professional and reliable property management services.
Why Is It Better To Hire A Property Management Company In The Summer?
There are a number of reasons why you should opt against the DIY approach to property management in the summertime. Among the most important ones are:
Letting the property manager work while you enjoy the summer

Facing high competition

Dealing with increased prospect interest

Having to calculate seasonal rates
Letting The Property Manager Work While You Enjoy The Summer
This is one of the most important and obvious reasons why hiring a professional property manager in the summer is the better choice. As a result, you'll be able to enjoy the summer and relax instead of having to collect payments, deal with emergency repair phone calls and prepare your property for tenants.
Facing High Competition
The competition for rental properties usually peaks in the summer because of warm weather and the fact that people tend to travel more. Instead of having to put in an effort to come up with the best ways to attract potential renters to your rental property, opt for the professional approach. Hiring a property manager means you'll be able to benefit from their know-how and ability to promote your property in the best possible way.
Dealing With Increased Prospect Interest
Streamlining the rental process can be difficult for individual landlords who often lack the experience to quickly identify a qualified prospect. You could receive countless phone calls regarding your property as thousands of people travel during the summer season. Thanks to the experience of a professional property manager, your property can be rented as soon as possible because of a streamlined and proven process of identifying qualified tenants for your home.
Having To Calculate Seasonal Rates
Calculating seasonal rates is not only dependent upon many factors but can also be very difficult. The summer is a busy season for both landlords and renters, which can further complicate the process. You can benefit from the services of a professional property manager because they are able to calculate the summer rental rate for your home adequately. This will ensure both high occupancy and great value in your favor.
Need A Professional Property Manager? Look No Further Than Latitude Properties
There are numerous benefits to hiring a professional property manager for your rental property in the summer. If you're currently in the market for a reliable, knowledgeable and experienced property manager, look no further than Latitude Properties Limited.  A company that is home to an A+ team of experienced professionals who take pride in managing your property as if it were their own. Call Latitude today or visit www.latitudelimited.com and ensure both a lucrative and carefree summer this rental season.