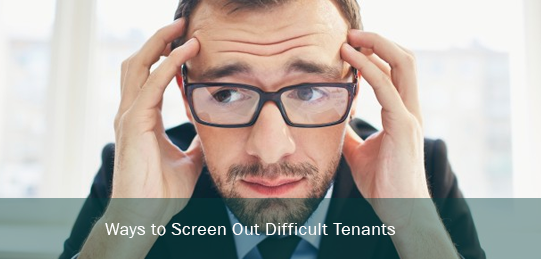 There comes a time in any property manager's career, probably more often they they'd like, when they have to deal with problem tenants – the ones who don't pay rent, the ones who are too loud, the ones who turn your rental home into a marijuana grow op – to name a few.
Dealing with them can be stressful, because while you're trying to represent your residential property management firm in a calm and professional way, the tenant is probably being anything but helpful. They like what they're doing and they resent you for stopping them from doing it. Whether you're managing properties in Waterloo, Ontario or Battlecreek, Michigan, there are ways to prevent these people from ending up in one of your units.
As far as I'm concerned, the best defense is a good offense! There are some things you should regularly do ahead of time to help prevent these tenants from ending up on your watch, or at least give you ammunition to deal with them effectively if they do get through. Every residential property management company should have these posted in large letters on the office wall!
Do a walk-through of the rental space just before you rent it and take pictures of every room and date them. Keep them in a file, or save them to the cloud so they're handy if you need to prove the condition of the unit before they moved in it.
Carefully screen potential applicants when you receive their application. Make the time to check out their employment and credit history, call their last two landlords, their immediate supervisor at their current and past jobs, and speak to each of their non-family references. This, along with a detailed look at their credit record should help you avoid many of those whom you would deem unacceptable.
Along with the application, ask for a scan or copy of their last three paystubs, or paychecks. It's easy for them to get someone to play 'boss' on the phone and to say they're working full time and making $800 a week as a roofer (this one actually happened to me!) – not so easy to fake pay receipts.
Make it clear what money you expect when a lease is to be signed. That could be first and last month's rent, a damage deposit, or a pet deposit (big dogs can demolish a wood floor with their nails) and exactly how much each will be. Anyone who is not comfortable with your requirements, can look elsewhere.
Have a list of rules and regulations that all tenants must follow. Make sure this list includes the repercussions of not following specific rules, so they know the consequences. Format this list into a document that both of you have to sign, with each of you receiving a copy. This way they can't plead lack of knowledge.
Let them know up front about your regular unit inspections (at least once a year, better 2-3 times a year) when you walk through to check the condition of the unit. Anyone uncomfortable with this may not be the tenant you want.
This may seem like a lot of work on your part. But it's nothing like the 'work' you'll have to do dealing with a problem tenant – the phone calls, the letters, the complaints from other tenants, the legal costs…! One may still slip through every few years – but without your safeguards in place, it may have been more, and you'll be more prepared if they do.
As a residential property management professional, it's your responsibility to ensure your other tenants have a safe and peaceful existence under your roof or roofs – it doesn't matter if you're in Milwaukee, Wisconsin or Waterloo, Ontario. Being proactive in carefully screening applicants is one way to do this!