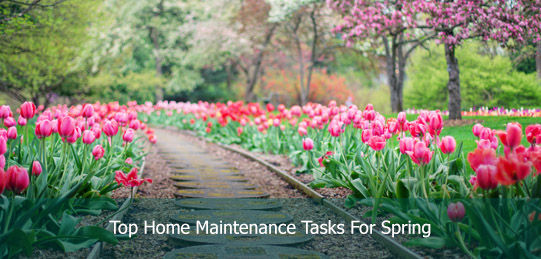 Springtime is when everything in nature wakes up from hibernation. The sun begins to peek out and signals that it is time for spring chores and home maintenance once again. In order to ensure that everything is well taken care of, there are several tasks around your home and property that need doing. If you are looking for new tenants in the spring rental season, making sure your property is at its best is very important. You could try to do the maintenance yourself, though it is always easier and more reliable to hire a property manager from a reputable company like Latitude Properties Limited to do this for you.
Latitude Properties Limited: Professional Tips For Spring Home Maintenance
The first step in preparing your property for the spring rental season is conducting a thorough inspection. This will tell you if there are any critical areas that require your immediate attention. Typically, there are several things to check and perform immediately, such as:
Repairs to the roof

Gutter and downspout cleaning

Clearing debris from the yard

Changing furnace filters

Checking smoke detectors
Making Repairs To The Roof
A thorough inspection of your home's roof is needed if you suspect it might have suffered damage due to winter storms. Look for loose or missing shingles and examine vent caps, flue pipes, and chimneys. Also note any buildups of leaves and other debris, as well as overhanging trees that could damage the roof during a storm. If you are uncomfortable with performing the inspection yourself, consider putting a professional property management company like Latitude in charge of your home in the future so you don't have to solve such problems.
Cleaning Downspouts And Gutters
When checking the gutters around your home, pay attention to sags in the gutter run and areas where the fasteners may have pulled loose. Note any water stains that may tell you if there are any joints that are loose and leaking. Clearing debris and dead leaves from the gutters is crucial because of oncoming spring and summer rains.
Clearing Your Yard Of Debris
Inspecting your yard for damage after winter is important. When doing so, pay special attention to trees. If any of your trees are leaning, have cracked or cause dangerous conditions, have them trimmed or removed. Cleaning up winter debris like leaves and needles will likely be necessary, as well as spring pruning. Properly dispose of all dead plant material so that it doesn't become a fire hazard when it dries. Keep in mind that professional property management companies like Latitude Properties Limited have managers that take spring landscaping very seriously.
Replacing Furnace Filters
Furnace filters become choked with dust from the winter heating season and spring is the perfect time to replace them with new ones. The importance of performing this seemingly insignificant maintenance fix is huge if you utilize your heating system fan to circulate air during summer or if you have central air conditioning.
Checking Smoke Detectors
Before you forget or it is too late, test the operation of your smoke detectors, clean the covers and replace the batteries as needed. Do the same for your carbon monoxide detectors (or install some) if you have gas-fired appliances in the house. Not only are CO2 detectors easy to install and inexpensive, but they are also widely available at most home centers. Latitude's expert property managers know the importance of such devices in your home or rental property, which is why it is easier and more effective to have a professional property manager in charge of your rental property.
Latitude Properties Limited: THE Professional Property Management Company For You
Performing all of these maintenance tasks and repairs time and time again each spring is not only boring but can be costly as well. When looking to ensure your property is at its best each rental season, keep in mind there is an easier way. Free up your time by hiring a professional property manager to take care of your rental property. Property managers are trained, experienced and have the time and energy to tackle all obstacles and issues that may arise. Latitude offers commercial, residential and industrial property management services, so call them today and ensure your property is in expert, professional hands.