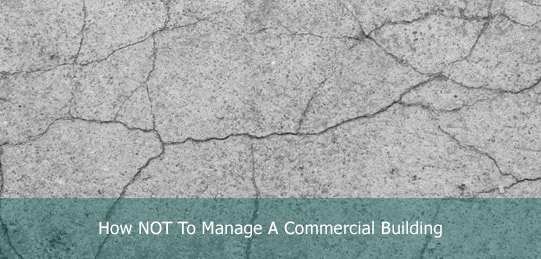 One of the most important things about purchasing a commercial investment property is ensuring you successfully maintain a profit on it. Commercial property management services are necessary if you want your investment to stay lucrative. This is something that many landlords attempt to do on their own. However, it is important to understand that professional property management companies are the best option here. This is because they have the time and knowledge to manage the property in the most profitable way.
Commercial Property Management: What Not To Do
There are a number of things to avoid when it comes to commercial property management services. These include:
Neglecting maintenance issues

Looking the other way when it comes to upgrades

Being timely with paperwork and emails

Having a timid personality
Neglecting Maintenance Issues
When the lease expires, your tenants are unlikely to stay if they are not happy. Frequent maintenance issues that are left unattended can influence the image your tenants have about your property. This can negatively affect business gains across all levels. Instead, make sure to take every maintenance request very seriously and allow for time to handle issues that may come up.
Looking The Other Way When It Comes To Upgrades
Compared to residential properties, commercial property management is more complicated and demanding when it comes to upgrades. The latest and greatest features in commercial buildings are something many tenants and customers prefer and even require quite often. However, these upgrades are usually costly. You should do your best to accommodate your tenants regardless because it is important in the long term.
Being Timely With Paperwork And Emails
This is especially important when it comes to commercial property management services. Communication is crucial for making sure your tenants feel taken care of and respected. Email and paperwork communication with tenants should be your top priority. If this is not the case, you risk missing important deadlines and communications. Remember: it is very difficult to catch up once you get behind, so ensure your lines of communication with your tenants are open and used frequently.
Having A Timid Personality
Open lines of communication with your tenants need to be standard from day one. This is something successful management thrives on, which is why it is not an option to be unavailable or quiet as a landlord. Commercial property management means you will need to have contacts and relationships with different kinds of tenants and demands. Dealing with them properly and to your advantage is nearly impossible to do with a timid personality.
Professional Commercial Property Management: Latitude Properties Limited
The key to making a property investment profitable is having both resources and experience. Because commercial property management is very involved, it is always the best option to hire a professional commercial property manager. Professional property managers at Latitude Properties Limited are both highly trained and experienced in ensuring their clients' commercial properties are managed both effectively and efficiently. Latitude Properties is a company that ensures profitability and success for all of its clients, so pick up the phone and contact Latitude today to get a long-term and reliable partner for your investment.