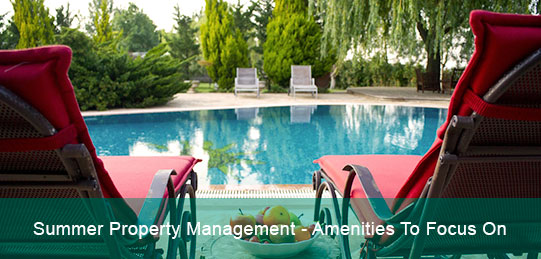 When it comes to making the most of your rental properties, there are several things to pay attention to. Among the most important are indoor and outdoor amenities. Appealing to prospective renters and keeping existing tenants is best done with interesting indoor features in each individual apartment. There's often plenty of confusion when it comes to the outdoor amenities, keep reading to learn what the experts at Latitude Limited recommend.
Why Are Amenities So Important?
Indoor amenities provide a sense of comfort, coziness and a pleasurable stay at a rental property. Outdoor amenities, on the other hand, are visible to both residents and non-residents in addition to stimulating interaction between neighbours. Upscale outdoor amenities, in particular, are designed to create the sense of a friendly neighbourhood in a multifamily property. When you have such outdoor amenities, your residents will feel encouraged to spend time outside getting to know one another and mingling. How do you benefit from that? Residents are more likely to renew their lease when they become friends with their neighbours.
What Kind Of Amenities Should You Opt For This Summer?
This can be a challenging task to complete. Choosing one or more amenities to invest in that will improve the quality of your rental property is difficult because you virtually have countless options to choose between. When looking to both attract new renters and keep the old ones, here are some tried and tested suggestions:
A pool that only allows access to residents

Charcoal grills on concrete patios.

Adding some festive lighting to stimulate mingling and cooking after dark on warm evenings

An outdoor fireplace complete with comfortable seating

Oversized outdoor games, the likes of Jenga or giant chess
Try Some Of These If You're Looking To Go Above & Beyond With Property Management
If you're really looking to maximize your property management potential, you could also try some of the following:
Create a covered area for shelter during rainstorms

Put into function any unused amenities currently found on your property. Examples include a rundown volleyball court or an obsolete laundry room

Rent out available space for gatherings or parties and consider charging a nominal fee

Attract new residents by focusing your marketing efforts to showcase your new outdoor addition
Need Professional Property Management Help? Call Latitude Properties Limited
Tackling the job of managing your rental property by yourself is admirable. However, the recommended option for ensuring success is to have a professional property management company do this for you. Professional companies like Latitude Properties have the time, know-how, and experience to ensure your rental property thrives and keeps bringing you a profit. Contact Latitude today and benefit from their vast experience.