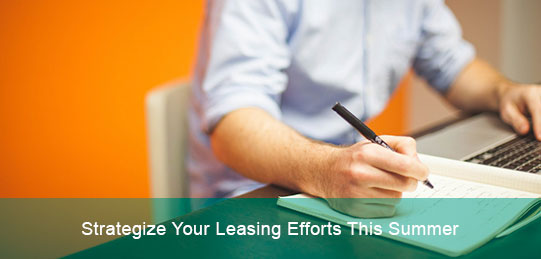 The summer brings with it numerous opportunities for landlords to capitalize on their rental properties. Whether you're trying to excel in residential, commercial or industrial property management, there are ways to be particularly effective when it comes to the monetary benefits of your rental efforts. The strategy is your best friend in this situation, so keep reading to learn what you can try to get ahead of the competition.
What Can You Do To Maximize Your Summer Leasing Efforts?
There are a number of strategies you can employ to ensure you get the best possible results from your rental efforts. Among these are:
Upgrading & streamlining your digital processes

Handling big maintenance projects during winter and spring

Promoting yourself as an authority

Engaging your tenants
Upgrading & Streamlining Your Digital Processes
We are living in a world in which success in almost all types of businesses greatly depends on your overall tech strategy. That is why a rental system that entirely relies on manual processes has many weak points where you could lose prospective tenants. In order to streamline and optimize all the processes within your rental business, you'd best begin adopting tech solutions that can help your efforts. Examples of such solutions include everything from accepting applications through online platforms to digital signatures and securely processing paperwork online.
Doing Big Maintenance Projects In Winter And Spring
The timing of maintenance projects is something that seems pretty obvious. However, many landlords and property owners completely ignore this aspect of property management. As a result, they end up conducting these projects during what would have been peak summer months, resulting in missing out on significant income. Instead, focus on performing these projects during winter and spring so that you can capitalize on the summer rental season.
Promoting Yourself As An Authority
Establishing yourself as a thought leader and promoting yourself as an authority, starts way before the peak leasing period. This is a continual process in which the goal is to position yourself as the go-to business and resource for all things relating to rental advice. This translates into updating your blog with the latest laws, news, trends, and advice in the rental market. This is a slow, but sure way to build a high level of public trust in you, which increases the probability of the public doing business with you.
Engaging Your Tenants
The renters' budget obviously plays a crucial role in opting to move into a rental property, as well as moving out of one. But, it is not the only factor that determines tenant turnover. Among the biggest selling points for landlords are also great customer service and a unit with curb appeal. This can be done by sending your tenants summer preparation tips in your newsletter before the season begins, in which you can identify potential maintenance issues, how to avoid them and deal with any problems that may occur. Boosting the quality of your maintenance response and improving your team's response rates both lead to building stronger relationships with your tenants.
Need Professional Help With Your Leasing Strategy?
Coming up with an effective strategy for your leasing efforts and then putting it into action can not only be intimidating but next to impossible when done the DIY way. Luckily, there are ways to accomplish this task very easily. This involves seeking the help of professional property management companies such as Latitude Properties Limited. A company that is home to an A+ team of experienced and expert industrial property managers, eager to help you find the best way to capitalize on the summer rental season. Call Latitude Properties today and get professional help with your summer leasing strategy.