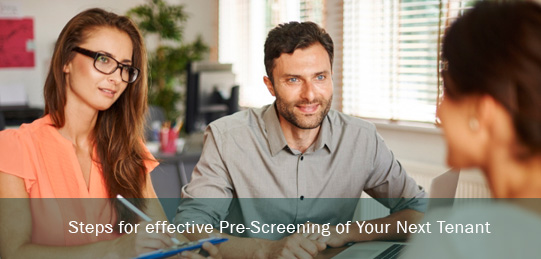 Many feel that the screening process of potential tenants starts with an application or a background check. However, this is not the case. The process actually starts with the initial contact, right after one has begun advertising for their property and has begun receiving calls. This process is known as "pre-screening" and is standard practice in property management, especially in and around Waterloo.
Once again contrary to popular opinion, screening is a process that can take a long time; it is not a quick activity that serves an even quicker result. You don't want to waste time on every single person that shows interest in your property, hence the importance of pre-screening. Its purpose is to eliminate those who obviously won't qualify.
There are several steps to pre-screening: pre-screening through advertising, through your first phone call and in person, all of which are standard activities in property management in the Waterloo area.
When it comes to pre-screening through your advertising, it is important to understand that the information in your advertisement serves to weed out those who'll only waste your time. For instance, putting a general location or nearby landmark in your ad means you're able to eliminate individuals who are looking for another location. The same applies to price, meaning, setting a price and putting it in the ad keeps away those who can't afford that price range.
Pre-screening through your first phone call is the next logical step in the process. It often serves as an indication of the kind of tenant the person who's calling might be. It's similar to the questions they'll be asking; you shouldn't judge them based on these questions, but they are a good indication as to what you can expect in the future. It's wise to include any minimum requirements you might have at this point, anything from a minimum income requirement to a full background and criminal check.
The next and final step is to screen a tenant in person. Meeting with the potential tenants to show them the property is an ideal opportunity to do some screening before any actual paperwork is done. It's also a good time to repeat and restate any minimum requirements to the tenant in person that were previously stated over the phone, in case they didn't understand or simply chose to ignore.
At that point, you should be down to several people or, ideally, just one, and you should have a pretty good idea of whether or not you've found the one(s). Ultimately, keep in mind that the best way to get top-notch property management for your Waterloo residence is to have help from a professional company like Latitude Properties Limited. Our expert team at Latitude are here to walk you through any questions you may have.