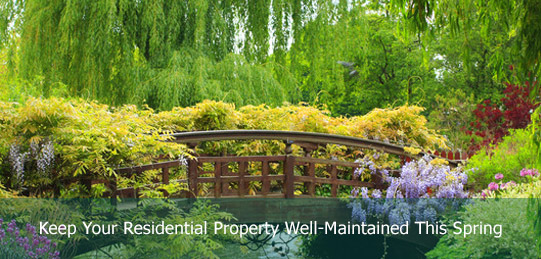 Protecting the value of your property is very important in the long term. Spring is the ideal time of year to inspect your property proactively and check to see whether winter weather and cold temperatures caused any damage. If they have, you should invest in maintenance repairs in order to keep your property functioning safely and efficiently. Maintenance is one of the most important residential property management services, so here are some tips on what you should do.
Residential Property Management Services: Maintenance Tips
Among a number of different things to check around your property, here are three particularly important ones:
Spring landscape maintenance

Spring property inspection

Spring A/C, ventilation and heating maintenance
Spring Landscape Maintenance
Ordering spring landscape maintenance is an activity that greatly helps preserve the long-term value of your property. Typical activities that may or may not be performed during a spring landscape maintenance process include pruning of trees and shrubs, fertilization, over-seeding and lawn aeration. There is another reason why this is an important residential property management service. Landscape maintenance allows you to remove any roots or plants that impact the foundation or siding on your property.
Spring Property Inspection
A complete assessment of your property inside and out is best done through a thorough spring property inspection. Why? Because this is the best way to discover and report any necessary repairs that need to be done urgently. Also, a spring property inspection is an important residential property management service because it allows you to verify lease compliance.
Spring A/C, Ventilation And Heating Maintenance
This is done for the purpose of preserving the life of your cooling and heating system. Keeping your tenants comfortable is necessary, but avoiding expensive repairs in the future because of neglect is also very important. The best way to do this is to perform maintenance upkeep on these systems. Typical activities during this maintenance activity include replacing and cleaning ventilation and air conditioning system filters, check basement humidity, checking and cleaning humidifiers and dehumidifiers and removing buildup on fans and forced airways.
Latitude Properties Ltd.: Get The Best Property Management Services
The absolute best way to ensure your property is well maintained this spring is to entrust it to a professional and reputable property management company like Latitude Properties Limited. Latitude treats each and every one of its clients like partners. The company tailors its approach to each property maintenance process in order to ensure the most effective results. Get rid of property management headaches today and put the experts at Latitude in charge of your investment.