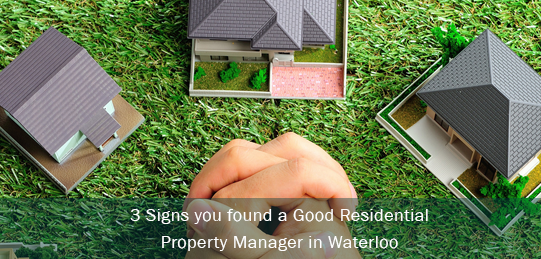 When you decide to invest in real estate, it is essential that you hire a quality property manager. With such services in place, your tenants will receive personal assistance from a qualified expert who will take care of issues and complaints as well as handle daily needs such as rental payments and searching for new tenants. But how do you know that you have hired a good residential property manager? Below are three signs that your Residential property management in Waterloo is on the right track.
Good Tenant Relations
The main goal when using a property management company is for your tenants to feel at ease and listened to. Tenants are the driving force behind your income with rental properties so they need to be happy. You know you have found a quality property management team when the tenant has a good relationship with the team members. Tenants need to feel that they can contact the team and let them know of any issues or problems. When good tenant relations take place, you are able to maintain your tenants for longer periods of time which means steady rental income.
Properties Look Their Very Best
Part of property management is taking care of the residential property, with basic upkeep and maintenance. This will vary depending on the basics that you want taken care of as well as additional services. For some property owners, only the essentials are taken care of such as HVAC maintenance, electrical checks, etc. However, for others, regular maintenance covers landscaping, regular painting of exterior and interior and more. If your property management team is handling every aspect of upkeep and maintenance and your properties look amazing, then they are doing a job well done.
Quick Turnaround Time
Every rental property owner knows that it is essential to have tenants. However, tenants come and go so a rental property management team needs to be able to find you new tenants quickly. If you find that you have quick turnaround time then your management team knows what they are doing! You want to work with a management team who can find you new tenants when you need them most, but also high quality tenants.
Property management service teams need to be able to find tenants who have a good credit rating and quality references so that you are guaranteed to be paid monthly rent. Experienced managers know just what to do to find the right renters.
Overall, it is important to work with an experienced property management company. When you work with someone who knows what they are doing, then you have rental properties that will operate like a well-oiled machine!
At Latitude Properties, we want to assist you with your management needs. We specialize in residential and commercial properties, able to offer you the best in personalized management services. Contact our office today to learn more about our management team and what we can provide your real estate properties. We look forward to serving you!