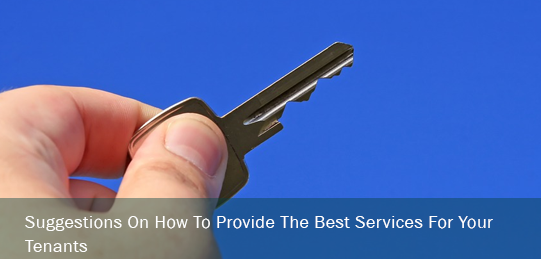 A landlord-tenant relationship is just that – a relationship. And like any other relationship, it takes a good beginning, and regular maintenance to keep it good. Many landlords bend over backwards being nice to get tenants to sign a lease – then can't be found when repairs are needed! Just like in a healthy marriage, the work you put in after the paper is signed, is even more important than the effort you made beforehand.
Providing the best services possible to your tenants is the key to success for owners and residential property management companies. The way to do this can be summed up in 2 major areas: communications, and response & maintenance.
COMMUNICATIONS: Keep an open line of communication between you and your tenants.
After a month, contact new tenants to make sure everything is okay. Let them know that you're available to them, and that no problem is too small pass on. It helps prevent small problems from becoming bigger ones. You should also contact them quarterly to make sure everything continues to be all right.
Be firm in the rules you set for your tenants. Make sure they have a copy of the basic rules and enforce them. An email as an early rent reminder is helpful, an email when rent is late is mandatory. Be consistent in this. And be consistent in the amount paid for late or NSF cheques.
Respond quickly to tenants' calls, texts, and emails. Set aside time each day to do this, so it doesn't roll over into another 24-hour stretch. When replies are delayed, tenants feel ignored and wonder why they're not getting the service they feel their rent payment entitles them to.
Use quarterly email newsletters to keep tenants informed about changes, upgrades, and repairs so they don't wonder what's going on. You can also include tips about dealing with the changing seasons or weather as pertains to their rentals.
Depending on the size of your holdings, you may wish to have residents' representative meetings. Meet with chosen representatives from each of your properties on a quarterly basis to get the lowdown on what is working, what is not, and what they feel you need to know about. Often they'll have workable solutions to problems you didn't even know existed.
RESPONSE MAINTENANCE: Respond quickly to problems and challenges, and be consistently proactive when it comes to maintenance.
Nothing makes tenants unhappier than repairs that are not quickly taken care of. What may seem like one of many small problems for you to deal with, is of critical importance to the tenant dealing with it, especially if it deals with an appliance. Respond to maintenance requests within 24-48 hours.
In winter months, get those sidewalks shovelled and salted as the day begins. Make sure parking lots and driveways are ploughed early as well to enable residents to get to work on time, and keep the property safe from accidents and lawsuits. In the summer, maintain lawns and hedges on a regular basis, so tenants feel they can fully enjoy the property they pay for.
Conduct regular walk-throughs in each of your units 1-4 times per year. It enables landlords to see smaller problems that tenants may be hesitant to bring to your attention, like a dripping faucet. It also enables you to identify problems or potential problems that inexperienced tenants may not recognize.
Providing the best services for your tenants can be challenging if you're not close to your property or properties, or if you have too many properties to handle on your own. This is when hiring a good real estate property management company is worth its weight in diamonds! You'll have less stress and more freedom!
A good residential property management company has experienced people in place to not only ensure good communications, but to handle all problems in a timely and affordable manner when they do come up. It has both the processes and the resources – human and otherwise – to manage your holdings in a way that maintains both good tenant relationships and the successful upkeep of your property.
When you providing the best services possible for your tenants, they tend to stay – you end up with good tenant retention. With high turnovers, not only do you lose rent money, but there are advertising costs, cleaning costs, marketing and showing costs, and more, and this all adds up to a loss. The bottom line is, it literally pays to keep the tenants you have happy and content residing with you!