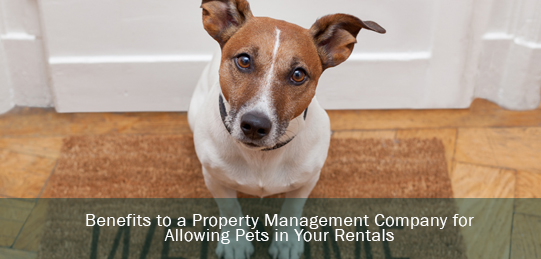 Finding a good tenant is always important when you rent out your property. That's why you should carefully consider what you will allow, and what your requirements are. But sometimes it may be beneficial to make a few changes to your requirements for tenants; one such exception will be pets.
In Ontario for example, a 'no-pets' clause will be void in a lease unless you are renting a condo where it's against the declaration. So, if you allow people with pets to move into your property, you cannot kick them out because of it. That's why it might be a good idea to use this at your advantage and advertise your home as pet friendly.
Pet Friendly Accommodation
With around 70 percent of tenants owning pets, Waterloo property management agents and owners will be smart to offer pet friendly accommodation. By excluding all pets from your properties, you'll also exclude a lot of qualified tenants, and that's bad for business. If you do it right, a pet friendly house or apartment will be a great way to attract wonderful tenants.
Pet friendly accommodation will ensure that you have more qualified tenants to choose from, since there is always a demand for homes that allow pets. Although there may be risks, just make sure you are prepared in the event that you do have some damage to your property at the end. By allowing pets in general, you are opening up more possibilities of getting qualified tenants who just also happen to be animal lovers.
Tips for Making Your House Pet Friendly
Here are a few good tips to keep in mind if you want to make your home pet friendly:
Include a pet agreement in your lease

Require approval for pets

Outline the responsibilities of tenants
Many property managers have decided that it's a good idea to open up a home to pets, as it will help to attract qualified tenants. But it's important to manage the lease properly and to ensure that you have all the clauses in there that you should have. That's why you should work with someone who has the knowledge and expertise to help you manage your property best.
It's always a good idea to work with a professional Waterloo property management team such as Latitude Properties Limited. You'll have all the help you need in marketing and managing your property, and this means you'll have someone taking care of your maintenance, tenant requests, approvals, rent, paperwork and more. Speak to us today to find out how we can help you manage your property.