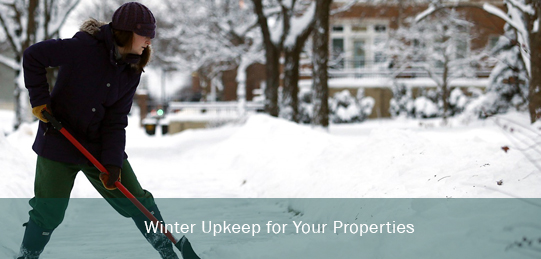 As a property owner, it's important to make sure that you are always prepared, especially when it comes to winter. That's why property management companies are so beneficial to work with. They ensure that the property is maintained, repairs are attended to, and tenants are happy.
When it comes to residential property management, you need to prepare for the winter months and ensure that your property is comfortable and safe. Doing property maintenance in the winter is always harder and can be risky too. Knowing what needs to be done before hand and doing the necessary maintenance before winter strikes, is the perfect solution.
Here are a few tips that you can use to maintain your property and avoid future issues.
Make a detailed checklist

. Keep track of everything that should be done before winter arrives. This will help you to plan in advance, get the necessary contractors and equipment, and ensure that you get your property ready in time.

Complete your maintenance early

. Whether it's cleaning the roof, clearing gutters, or stocking up on items such as salt, completing maintenance early will leave you with the time you need to make sure everything is ready.

Fix items quickly

. It might feel like you have a lot of time to do repairs, but time goes by very quickly and before you know it, it's winter. So always make sure that you fix things quickly, without compromising on quality.

Consider safety

. Keep in mind that it's not only about making the property look good, but also about safety. The quicker you fix things, the lesser chance you have of someone getting injured, slipping or falling on ice, for example.
With so many things to think of when winter approaches, it's often a good idea to work with a professional team to handle all the repairs and maintenance on your property. This will help you to focus on other things, while knowing that your property is being taken care of and will be in tip-top shape when winter comes.
With proper maintenance, a lot of risk can be eliminated and your building can be well maintained and safe for everyone involved. That's why it's important to make sure that you properly take care of your residential properties especially if you have tenants in them.
Latitude Properties Limited specializes in residential property management and we can assist you with your property maintenance and management needs. Leave your property in the hands of experts and be rest assured that a professional team will take care of your investment.