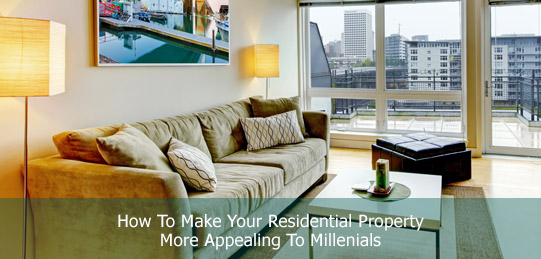 If you are a landlord or property manager looking to find new tenants for your property, you probably know that catering to millennials is a wise business strategy. However, you should know that millennials are very different when it comes to their living spaces than previous generations. Compared to people in different age groups, they are less likely to move once they've found an ideal rental space. Attracting millennials from the Waterloo area requires specific targeting; something that is best done by professional residential property management company.
Waterloo Residential Property Management: Tips For Appealing To Millenials
Marketing to millennials the DIY way requires you to understand their specific interests and mindsets. In order to help you with that, here are some tips:
Offer authentic value, not flashy ads

Make your location a centerpiece

Make your online presence your biggest selling point

Emphasize amenities that also cater to millennials

Use lifestyle branding to your advantage
Authentic Value Vs. Flashy Ads
Millennial are wary of anything overly "salesy," because most of them grew up being advertised to 24/7. A sure way to lose millennial interest is to focus on a big wow factor, flashy ads and overselling your listing. What you should do is keep your interactions and advertisements authentic and straightforward. Focus on telling them about the value your property will bring to their life. When talking about residential property management strategies in Waterloo, this is the best one if you are specifically targeting millennials.
Make Your Property's Location The Star Of The Ad
While highlighting the amenities of your space is an important factor for millennial attention, the same applies to the surrounding community. You need to highlight everything surrounding the location of your property because it is a huge factor for millennials. This can and should include things like hiking trails, farmer's markets, art galleries, clubs and so on.
Your Online Presence Should Be Your No. 1 Way Of Reaching Out To Millenials
The simple truth is that millennials use online resources as the dominant way of searching for their next place to live. That is why there is a big difference between simply having an online presence and having an effective online marketing strategy. How to do online marketing for your Waterloo residential property correctly? Start by having lots of high-quality photographs of your space, highlighting the most appealing amenities and offering extremely comprehensive listings online. Why? Because most millennials will never look at a property in person unless they've previously checked it out online.
Emphasize Amenities That Also Cater To Millenials
Similar to highlighting the community, putting millennial-friendly amenities under the spotlight can mean the difference between getting huge millennial interest and getting none. Examples of such amenities include dog and environmentally friendly spaces, lounges, tech centers, gardens and other community spaces. If you want to attract millennials and ensure your Waterloo residential property is managed the right way, put these areas of your rental property at the front of your ads.
Use Lifestyle Branding To Your Advantage
Cater to millennials' ideal lifestyles. This means that, if your property is located near city limits you can market it as a quiet retreat, where millennials can relax while being close to nature. On the other hand, if your property is in the heart of the urban city, use that to your advantage as well. Market it as being close to restaurants and nightlife opportunities and offering young professionals a fast-paced urban lifestyle.
If You Opt For Professional Waterloo Residential Property Management, Think Latitude Properties Limited
While DIY property management can be very rewarding and lucrative, it also has numerous risks and complications. It is typically an extremely time-consuming activity. A much better solution is to hire a professional and reputable property management company like Latitude Properties Limited. Latitude offers clients residential, commercial and industrial property management services thanks to its highly experienced and battle-tested A+ team. Contact Latitude Properties Limited today and let the professionals take care of the difficult work.