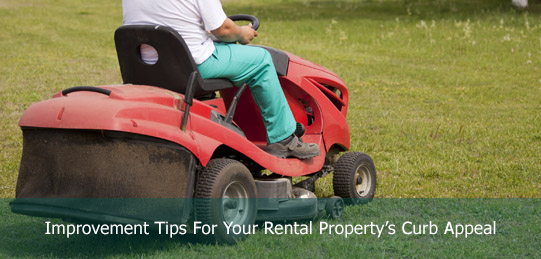 Regardless of whether you are renting or selling your property, curb appeal will either make or break your listing. When it comes to property and real estate rentals, first impressions mean everything. In fact, many renters of potential buyers won't even consider stepping inside a home if they don't like how it looks from the outside. Impressing your potential tenant is best done during your first showing, which exactly why curb appeal is so important. Visit www.latitudelimited.com for more details.
Curb Appeal Improvement Tips
Curb appeal plays a hugely important role in first impressions. It is what attracts potential buyers or renters to take a second and closer look at the property. There are some quick and easy ways to improve your property's curb appeal that many landlords and homeowners overlook. Here are some of them:
Start with your property's online presence

Clean up your yard

Improve the landscape by adding attractive flowers

Clean up the siding, driveways, and sidewalks by pressure washing them

Add improvements to the front door

Add some finishing touches
Online Curb Appeal Is Where It All Starts
Why? Because that's where most buyers and renters will first look to get the initial information about your property. That is why it is important to have the absolute most appealing photos of the outside of the home. Keep things clean and only take photos after every single detail on your property has been perfected. It is a good idea to make your photos stand out online by picking out a color that pops for your front door.
Cleaning Up The Yard
There is a fine line between maintenance and too much maintenance. Once you've cleaned up the surface debris, tree limbs, and trash, make sure to clean up the foliage and cut the grass as well. The plants on your property need to look well maintained. Avoid creative looking shrubs and keep everything tidy.
Add Attractive Flowers To Improve The Landscape
When looking to make your property more appealing and inviting to visitors, climate-appropriate, pretty and bright flowers are a cheap and easy fix. Ensure the flowers have a defined separation from the lawn and maybe even add a nice border if it is appropriate. If you are having trouble with choosing flowers that match the look and feel of your property, you can always consult a landscaping professional.
Give Your Siding, Driveways & Sidewalks A Good Pressure Wash
You will get more out of your listing if you put in more effort and this is where details that make your property stand out are really important. A detail that many overlook are bright and clean sidewalks. Another trick you can employ that many homeowners and landlords neglect to use is pressure washing the outside of the property. Ensure your home's outside can withstand the power of the pressure washer beforehand and don't forget to do the entire home.
Tired of being hassled by tenants 24/7? Go to www.latitudelimited.com and get a manager for your property.
Adding Improvements To The Front Door
"Remember that house with the cool door?" is what you want potential buyers and tenants to say. The goal here is to ensure the front door is inviting and memorable. Because the front door is one of the first things someone notices when they're coming up to the property, it is important that it is eye-catching. Adding modern hardware or staining or painting the door is a great way to accomplish this. Another way to add appeal to it is to add fresh herbs or tasteful, seasonal décor.
Don't Forget The Finishing Touches
This can include anything from updating outdoor lighting with modern fixtures to cleaning the windows with some glass cleaner. Check to see if the house number is visible from the street, and ensure all the outdoor bulbs are the same wattage and shade of colour. It might also be a good idea to add some outdoor furniture and potted plants.
Having trouble keeping up your property's profitability? Get expert help at www.latitudelimited.com.
Curious For More Curb Appeal Tips?
While DIY curb improvement tips and tricks can be useful, keep in mind that nothing can replace a professional approach. This is best done when your property is in the hands of an experienced property manager, such as those at Latitude Properties Limited. Latitude takes great pride in adding a professional touch to every single property it manages. Check listings and more services offered at  www.latitudelimited.com right now and let the experts at Latitude Properties Limited do the heavy lifting.