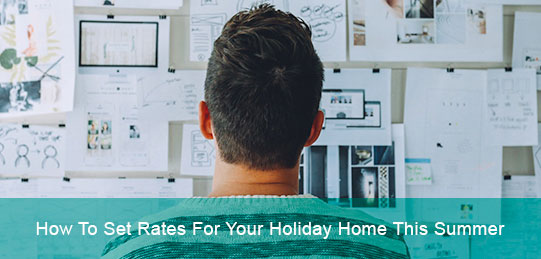 Setting the rental rates for your property is something that needs to be done before you put your property on the rental market. If you are a self-managing owner, it is up to you to calculate and set the rates yourself. When your goal is to get the important inquiries and bookings, setting your rates appropriately is crucial. This can mean the difference between good and bad DIY residential and corporate property management.
Setting Your Rental Rates The Right Way
Whether it's managing your corporate property or your residential property, there are some tips you could use to ensure you do the job of setting rental rates adequately. These include:
Learning from the competition

Determining seasonal & nightly rates

Setting a minimum stay
Learning From The Competition
When travelers are looking for various qualities in holiday properties, there are certain factors that will limit the amount of rental income you can make. This is where examining the competition can help. Finding properties that are similar to yours can give you a realistic idea of how high you could set your rental rate. Factors to observe here include the type of property, the number of bedrooms, the location and any special facilities such as a pool.
Determining Seasonal & Nightly Rates
Determining seasonal rates means setting rental prices for different seasons. For example, you only need to charge two different rental rates if your market is relatively year round. Charging higher rates during peak season and less during off season to attract fill up guests, if your market is seasonal.
If you operate in a "summer holiday" region, your weekly rate is the most important as most peak time travelers book two-week trips. If you operate in an area where shorter stays are popular such as a city, you might want to think about including a nightly rate. Your nightly rate can be between 1/5 and 1/6 of your weekly rate.
Setting A Minimum Stay
You also have several options when it comes to setting a minimum stay in your rental property. You will be missing out if you let someone stay for just a few days as most travelers will want to book by the week. On the other hand, it might be wise to allow shorter breaks if you operate in an area where weekends and short stays are popular. In this situation, setting your minimum stay as three nights might be an adequate solution.
Need Help With Managing Your Corporate Property Adequately? Turn To Latitude Properties
Hiring the services of an experienced and reliable property management company like Latitude Properties Limited is ideal if you either don't want to tackle setting your rental rates by yourself or feel like you're unable to do so properly. Latitude Limited is home to an expert and experienced team of professionals who specialize in managing different types of properties. Call Latitude right away and save yourself from the headaches of calculating rental rates.