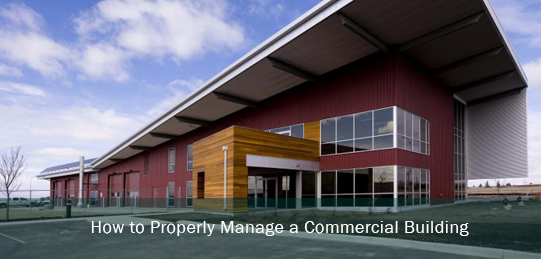 If you own a commercial building, you know just how challenging it can be to manage it properly, especially when you have other business to attend to. That's where commercial property management services come in; you can have a professional team handle your property on your behalf, keeping an eye on your investment.
If you are managing a commercial property, here are a few great tips to keep in mind:
Keep track of your leases

. Managing individual leases can be difficult, which is why you need to keep an eye on them. They may all have different terms, and you'll need to stay on track in terms of payments, contracts, and more.

Consider property safety

. Safety is always an important factor on any commercial property. To secure good tenants you need to know that your property is safe, clean and well-taken care of.

Consider working with a property manager

. If you don't have the time or expertise to handle the management of your commercial property, consider hiring a commercial property manager to act on your behalf.

Always take care of maintenance

. Maintaining a property is not only to keep your tenants happy but it's also to keep your property looking good, and retaining its value. Depending on the size of your property, maintenance can be a bit expensive, but with a professional management team you'll always be on top of every issue.

Manage your paperwork

. It's important to keep up to date with your paperwork. Not only will you prioritize communication but you'll also make sure that your tenants feel important and respected. Paperwork is a necessary aspect of any property's management.
Managing a property doesn't have to be difficult, as long as you stay organized. But if you have too much on your plate, consider hiring a professional to take care of your investment on your behalf. Keeping tenants happy is very necessary to ensure a good relationship.
If you are looking to have your commercial property managed by a professional team, contact the team at Latitude Properties. We specialize in commercial property management services and we can properly take care of your investment. Talk to us today to find out how we can assist.