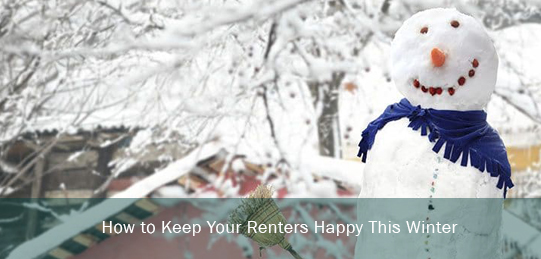 Owning a property is about more than just doing renovations and maintaining its appearance. It's also about your tenants; you build a relationship with them and that's why it's always a good idea to try and keep them happy wherever possible. Winter time can be quite challenging for most landlords, so it's the perfect time to prepare in advance and ensure your tenants are looked after.
Improving Tenant Retention
A successful part of any Waterloo property management team is to retain good tenants throughout the year. You want your tenants to be happy, so that they can stay on for as long as possible. Although it's not possible to keep tenants forever, it's worthwhile looking after the ones you have.
You need to be responsive

. React quickly when they need help, or if there is an emergency situation. Winter times can be challenging especially when it comes to maintenance. If they have a maintenance request, it's important to handle it as quickly as possible to show that they are being attended to.
You can also keep your tenants informed

. This can be via a simple text message, or even via a newsletter if you have the time. Inform them about changes to the property, planned maintenance, or anything else they should know about. You can inform them prior to the winter coming, what you plan on doing, such as routine maintenance and safety checks.
You should always prioritize maintenance to the property

. Although these may not always be urgent, it should nevertheless be done. This will allow for a safe and clean environment for your tenants. This reduces the chance that they will move since they know they'll live in a good home that is taken care of. With the winter approaching, making sure your maintenance is done is always a priority for any landlord or property manager.
Use available technology

. If you are a property manager, let your tenants contact you via text, your website, and any other available method. It's important for them to know that you are reachable and that they can use many options available to them to contact you.
Many landlords choose to work with a specialist team to handle their properties and tenants on their behalf. It's a great way to be rest assured that someone with expertise will handle everything from repairs and maintenance, to lease contracts and tenant screenings. A Waterloo property management team can do much more than that though – they can also work to keep tenants happy.
As a specialist in Waterloo property management, Latitude Properties Limited know how to keep tenants happy when renting from landlords. Contact us today to find out more about our property management services and how we can look after your investment.