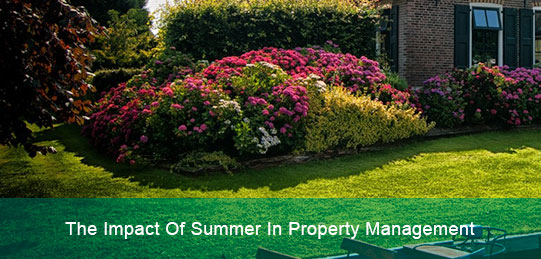 When it comes to practicing good residential, commercial and industrial property management, it is important to understand the various factors that affect the real estate market. Among the more common variables are peak travel season and migrations caused by economic growth and job opportunities This may seem obvious to most, but many seem to neglect the full extent of the influence of seasons on the real estate market. Keep reading to learn how different seasons affect your chances of capitalizing on your rental property.
What Is Seasonality And How Big Is Its Impact?
Depending on where you live, the changing weather can have a huge impact on the real estate market. The seasonality of your market is one of the factors that impacts housing supply and demand. The seasons of the year typically have a significant influence on the price you are asking or paying for a property. How big of an influence? As much as 10% in some cases. Even though the weather is something that varies between markets, there are still factors that influence the supply and demand across all of them, such as:
The school year, and

The holidays.
Seasonality In The Form Of The School Year
Uprooting their family in the middle of the school year is not something buyers and sellers (or renters) with children typically want to do. They will usually wait until the school year is over so that they have more free time to move. According to several studies, the busiest moving times of the year are in the summer. More precisely, people tend to search for new homes as the summer draws to a close and at the end of the school year.
Seasonality Demonstrated By The Holidays
Fewer people will also choose to move during the holidays, which is to say, in the period between November and January. Most people already have a hectic holiday season filled with unpredictable weather conditions, end-of-year deadlines and family obligations, they typically opt to save their moving plans for a time of year when their schedules aren't so busy. In most cases, they typically opt for summer to hunt for new homes and rental properties.
In Search Of A Property Management Professional? Contact Latitude Properties
When it comes to understanding the effects of the seasons better, as well as coming up with ways to capitalize because of it, you're best off hiring the services of a professional property management company. The professionals at Latitude Properties Limited are experts when it comes to residential, commercial and industrial property management. The A+ team of professionals at Latitude know how you can benefit from the effects of seasonal real estate management, so get in touch with them today and become a part of the Latitude community.