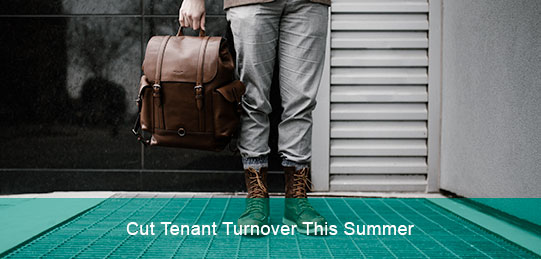 The summertime is when countless renters are moving, which may leave you trying to fill your vacancy. This is something that applies to many Canadian cities, including Kitchener. Reducing tenant turnover is one of the biggest hurdles to overcome when looking to ensure good property management in Kitchener. Keep reading to learn about some tips and strategies that could help you achieve just that.
Kitchener Property Management: Cutting Tenant Turnover This Summer
When it comes to coming up with reliable and effective strategies to encourage your tenants to renew their lease for another year, you have a number of options. Implementing each of them requires good timing, but the biggest part of making a success is asking for valuable feedback from the tenants who leave. With that in mind, here's what you can try:
Improve your property in an energy-efficient and smart way

Offer a loyalty incentive for lease renewal

Ensure proactive communication with tenants

Introduce a three-month-prior lease renewal
Energy-Efficient & Smart Improvements
In order to reduce lease turnover for amenities, it is important to keep your apartment complex competitive with other local properties. Renters may end up having to pay high energy bills during hot summers when trying to stay cool. Make energy-efficient improvements if you have older AC units, in order to reduce turnover by increasing comfort.
Loyalty Incentive For Lease Renewal
Offering desired perks is another great strategy that can result in getting renters to renew their lease. Examples of these desired perks could include anything from an upgrade like free Wi-Fi to a discount on rent. Either way, the end result is an increase in your property's appeal.
Proactive Tenant Communication
Ensuring your tenants are well-taken care of is just one part of the equation. Ensuring they are happy is the other part. There are various ways of keeping your tenants happy, a particularly effective one is being responsive and courteous to them. By demonstrating that you are not only responsive but also proactive in maintaining a relationship with your tenants, you are increasing the chances of them renewing their lease.
Introduce A Three-Month-Prior Lease Renewal
Inviting your renters to renew their lease well in advance of the end date is one way to motivate them to stay. It is also important to be honest about any rent increases if doing so. A particular benefit of this strategy is that it gives all parties involved three months to plan for the future. You can both reduce uncertainty and fill vacancies more easily in the event your tenants decline to renew their lease.
Having Trouble Cutting Tenant Turnover The DIY Way? Contact Latitude Properties
DIY property management may sound like an interesting and dynamic activity, but it can also be very challenging and time-consuming. Attempting to cut tenant turnover in the summer is a common problem for most landlords, which makes hiring a professional property manager that much more appealing. If you're considering this option, remember that Latitude Properties, Ltd. is the home of an A+ team of experienced professionals. They will care of your property as if it were its own. Contact Latitude today to begin a lasting and reliable partnership.