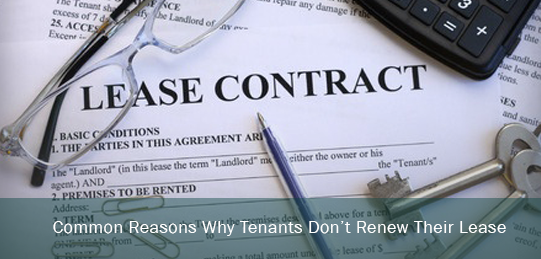 Are you a residential property owner that has seen a high turnover rate when it comes to tenants? Have you found that good tenants do not stay at your property once their lease agreement expires? If you find that you are having a difficult time retaining tenants, then their might be a problem, most likely within your property management services.
Every tenant is different, but all expect certain aspects when it comes to renting residential property. Most tenants will stick around unless something major takes place that has them wanting to find a new place to live. Below are the top reasons why a tenant will choose to move on instead of renewing their lease.
Rent Increase
Renters expect their monthly rental amount to stay the same. Whenever a property owner decides to increase the monthly rate, a good tenant will begin to look elsewhere for a new home. Consider if the increase is fair and if you would be able to find new tenants before raising the lease on an existing tenant.
Neighborhood Issues
Another big reason tenants move on is due to neighborhood issues. This can happen when a property is located in an area where crime may be prevalent or if the area appears to be unmaintained. If home owners nearby are not caring for their yards, tenants may want to find what they feel is a nicer place to live. Renters want a nice and safe place to live. If the neighborhood where your property is located changes to a seedy area, you may have trouble keeping tenants.
Poor Communication
Your residential property management company in Waterloo needs to have good communication with every tenant. Tenants need to feel that they are being treated fairly and all of their issues are taken care of. When a complaint or need arises, it needs to be settled. The tenant needs to be able to communicate with the property management team and feel that they are being listened to. If repairs go unchanged, maintenance avoided or issues unresolved, tenants will move somewhere else where they feel appreciated.
Lack of Upgraded Features
Rental property owners want to live in a home where they are comfortable. Most renters will not choose to sign a rental agreement if the property appears run down or outdated. You can lose many renters by not offering modern features like stainless steel appliances or new carpeting. Take a look at your rental property. Could it use an update in some way? Would any changes help to secure renters?  Your property maintenance company should alert you to any complaints about the property lacking modern amenities or make suggestions as to what you could change to keep tenants in place.

At Latitude Properties, we want to help you retain tenants and see long term renters in place. Let our team of professionals manage your residential properties and help you earn a solid income via your rental property. Contact our office today to learn more about the services we can provide you.