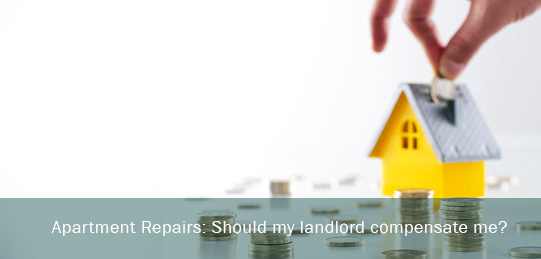 When you become a renter, you soon learn that you must deal with the landlord on a regular basis in order to have the property cared for, make rental payments and to send in any complaints you may have about the property. As far as the landlord is concerned, there are certain repairs that they are responsible for and some aspects they are not. It is important to know the difference so you are not paying for something that you would otherwise be compensated for.
Landlord Repairs
Despite what may or may not be listed in the rental agreement, there are certain aspects of the property that the landlord must upkeep and fix when needed. The landlord is required to keep the building structurally sound, providing hot/cold water, taking care of roof issues, plumbing, electrical and HVAC components. Pests are also covered by the landlord so bug and pest control must be provided as long as you are not the cause behind an infestation, due to poor housekeeping or other wrongdoing.
What Repairs are Not Covered by the Landlord?
Minor problems are not something that your landlord will cover. A property management company in Waterloo can easily tell you that simple fixes are not something that every landlord will take care of. However, to be successful, landlords must do their due diligence to keep renters happy.
If you have a running toilet, holes in the carpeting, torn window screens or other small issues, they may be annoying but nothing that the landlord is required to take care of. However, such repairs may be included depending on your lease. Whenever you sign a new lease to rent a dwelling, take care to read over what is provided by way of repairs and assistance. You want to be sure of what is covered and what you might have to take care of yourself.
How to Get Repairs Taken Care of
If you are a renter and are in need of repairs, put your request in writing and submit it to the landlord. Requests that are provided in writing give the individual time to think about a response and in most cases will see the issue taken care of. Also placing your request in writing allows you to show why you need the service done instead of the landlord cutting you off mid-sentence.
As the Landlord
When you are in charge of a property, it is important to be a good landlord. Try to cover repair needs that are essential as well as to help your renters when they need it most. If small requests can be done, then complete them. You will see that your good deed is rewarded with quality tenants on your property.
At Latitude Properties, we can assist with any rental property management need, including covering repairs and maintenance. We offer the essential service options so your tenants are happy and you are able to focus on obtaining more rental properties while maintaining steady renters in your existing properties.