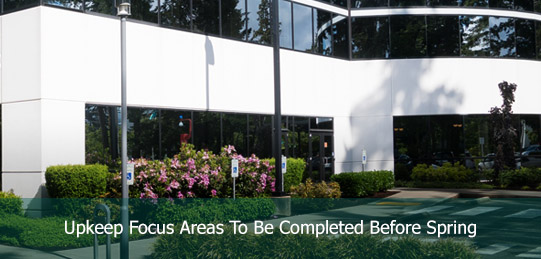 When it comes to industrial real estate property management, there are many focus areas renters and property managers need to address for maintenance and upkeep. The reason for this is because winter conditions and temperatures often leave a stamp of damage on most properties. In order to properly prepare for the impending spring renting season, thorough inspections and repairs may be needed. These repairs are necessary as they will greatly increase the chances of finding good tenants more quickly, which will help maintain your cash flow.
Industrial Real Estate Property Management: Typical "Pain Points"
Making seasonal adjustments on your property will typically include some or all of the following action items:
Flood sensors/humidity monitors

Outdoor paths and walkways

Outdoor lighting and bulbs

Cleaning the gutters

Sealed ducts and windows
Consider Installing Humidity Monitors And/Or Flood Sensors
When considering the more significant concerns of industrial real estate property management, it is important to keep in mind the combination of summer heat and spring rainfall. Safeguarding against problematic weather can be done by installing flood and/or humidity sensors. Preventing molding, electrical shorts and other hazards associated with high humidity levels is best accomplished by using humidity sensors in rooms with electrical equipment.
Outdoor Paths And Walkways
Outdoor walkways and paths frequently become fractured or damaged by snow or rain for managers and homeowners in harsher winter climates. If your goal is to ensure your rental property is an inviting sight to a potential tenant or guest, a cracked pathway is not the way to do it. Examine all pathways for standard wintertime wear and tear, missing tiles and cracks. Conducting such repairs is also important as jagged edges of fractured paths are a hazard to your guests and tenants. Remember: proper industrial real estate property management begins with the first impression, and outdoor paths and walkways are a big part of that first visual impression.
Outdoor Lighting And Bulbs
If you are looking for a place to begin improving the way you manage your industrial real estate property, consider exterior and interior lighting fixtures. Why? Because you want to avoid a "dark" or "creepy" characterization of your property. Instead, you ideally want the exterior lighting to be set up in a way that it drives certain emotions for potential tenants or guests. You could further try to play into this by scheduling property viewing at night or dusk when your exterior and interior lighting set up is at its best.
Cleaning The Gutters
Cleaning the gutters is a must-do for summer preparation because it is typically a spot difficult to reach. Make sure you've cleared away all winter debris by inspecting all downspouts and any other bottlenecks in your gutters. If your gutters are damaged or clogged, springtime rain can not only be problematic but can also cause expensive repair costs. This because you could end up having to replace your gutters due to leaks.
Sealed Ducts
Ducts are potential spots that could hide the leaking of cooled air. This is important for homeowners who use air conditioning units for hot summers. In order to ensure a high efficiency of your heating/cooling system, consider the year-round maintenance of your A/C system a must. If you discover a leak, a quick and simple fix would be to use one of the many sealant products sold at retail stores and consumer outlets.
Latitude Properties Limited: THE Industrial Real Estate Property Management Provider For You
Managing your own industrial real estate property can be very difficult for a number of reasons. It is a full-time job and requires experience and skill in order to have successful results. If you are struggling, the best option is to let a professional and experienced property manager take control. Latitude Properties Limited is home to an A+ team of skilled, highly trained and accomplished property managers who take pride in helping owners and investors manage their properties. Contact Latitude Properties today and ensure your property is in the hands of confident and accomplished professional managers.