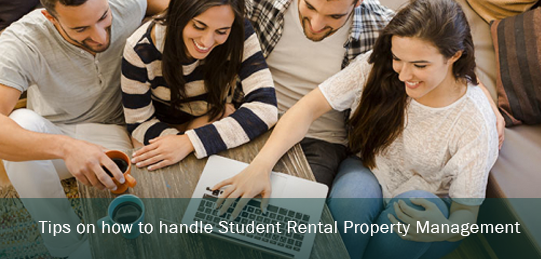 When you own residential property in an area near a university or college, you will most likely be renting to college students at some point in time or all of the time. The student pool of renters can be quite large, especially in a big city or college town. When you own an apartment complex or large rental home, you can make a pretty penny by renting to students, if you learn the right tools and tips to use to your advantage.
Not a Huge Risk
Most property owners do not want to rent to the under 25 crowd as they feel it is a risk. Of course college kids are going to party, but many do not. Property owners often imagine that renting to college kids will result in a destroyed home, but that is not the case. If you have the right knowledge and take precautions, plus have a Waterloo corporate property management company by your side, then you can be prepared to handle the younger renters.
Preparing for Student Rental Properties
If you are in the market for rental properties in a college town and want to cater to the student crowd, you need to remember a few things. First, you will need to have a quality location. The home or apartment complex will need to be located in an area close or within walking distance to the school. The property also needs to be close to dining, shopping, etc. Many kids do not bring a car and have only a bike or their feet to go places, so your location needs to be convenient to everything a student will need.
A quality layout is also important. When you are renting to students, you will most likely need to offer affordable housing so you will need to have a functional layout within a home that meets the needs of two to three or multiple renters. The space will need private rooms and bathrooms along with common shared spaces. Laundry is also important. Students are more likely to rent a home if they don't need quarters or have to travel to do  their laundry.
Advertising goes a long way to filling your rental vacancies. If you own a property near a college or university, you will have to invest in advertising. Students will check want ads as well as local bulletin boards. Once you begin renting to students, you can also find new renters by word of mouth. As students graduate, they will recommend your property to their friends which helps you to continue to fill vacancies and keep your property rented. Many kids attend summer school classes or don't go home for the summer. Because of this, you should be able to keep your property rented year-round. Some kids may even want to rent year after year so they continue to pay rent in the summer just to hold their spot!
Overall, these are just a few tips to consider when renting to students. You can learn more by discussing such plans with a quality rental management company such as Latitude Properties. At Latitude, we can assist you by offering quality rental management service options, helping your property stay in great shape while renting to students.