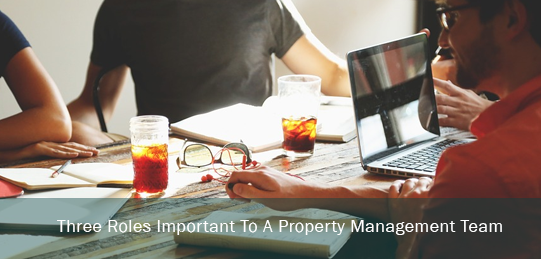 A successful commercial property management service doesn't happen by chance, and it takes more than signing some clients and putting in a lot of hard work and hardcore commitment. It's imperative to have the right people in place to not only make things happen, but to make them happen correctly, effectively, and efficiently. To put it in the simplest terms, a successful team should include a skilled and dedicated 'people person', 'numbers person', and 'fix-it person'.
Your 'People Person' is, of course, the PROPERTY MANAGER.
This person must have exceptional interpersonal skills as they walk many tightropes on a daily basis, connecting with owners, tenants, the accountant/controller, legal people, maintenance people – and any other persons whose services or interaction brings them under the umbrella of a commercial property management service. The Property Manager must address each of these people as per their place in your company's network, and interrelate with them appropriately. They must have extremely good communication skills both written and verbal and know when each is best used – person to person, a phone call, a text, an email, and even snail mail. These communication skills are critical in the day to day activities a Property Manager must handle, activities such as: setting, adjusting, and collecting rent; screening, accepting, and handling tenants, and all of the challenges entailed; answering owners questions; supervising other employees, ensuring everyone is doing what must be done to maintain the balance of the successful management of corporate property – along with many other duties. When something goes pear-shaped, it's up to the Property Manager to smooth ruffled feathers and find the best and most cost effective solution.
Your 'Numbers Person' is the ACCOUNTANT / CONTROLLER
You'll find the ideal person for this position to be ethical, very professional, detail-focused and able to complete tasks and produce reports on a timely basis. Your Accountant / Controller will thrive in a fast paced environment and works with little or no supervision. Depending on the size of your commercial property management service, she or he would handle all sorts of finance-related responsibilities: financial reporting, budgeting, forecasting, year-end audit, tax returns, account reconciliation along with daily financial operations – and managing any staff in the accounting department. In a larger company, you'll have a Controller to oversee other accountants, and to analyze, interpret and disseminate your financial information. They're also crucial when it comes to budgeting and translating the numbers information into usable facts.
Your 'Fix-it Person' is your Maintenance Manager.
This person is in charge of maintaining the buildings and grounds – which includes daily maintenance, preventative maintenance, and repairs. Your Maintenance Manager is knowledgeable about a wide range of maintenance services, and should be able to handle many of the services themselves. To be effective, he or she will also have a wide network of dependable local service and trades people, who are called in when their specific service specialty is needed. You should find the Maintenance Manager to be detailed, highly organized, and able to multi-task. It's also important that this person have good people skills, as they'll need to interact with tenants and trades people alike, as well as reporting on a regular basis to the Property Manager.
It's not always easy to find people with the right skill set and the right attitude! Screen your applications and applicants carefully and have a specific check list to work from. When you have these three people in place – committed people who understand their roles and their important contribution to the team – you will have an effective Property Management Team, and your corporate property management service can move forward effectively and efficiently.