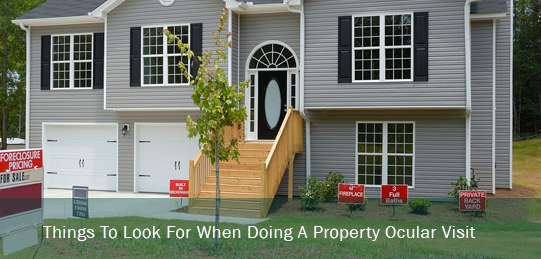 It's important that your property – your investment – remains in the best condition possible for as long as possible. Under normal living conditions, things in any unit change over time – they wear out, they wear down, and they wear through – what we refer to as normal 'wear and tear'. However, ill treatment of a property can result in damage that must be repaired, or the tenants may make unauthorized changes, through painting, construction, or accidental damage. Property ocular (visual) visits by a residential or commercial property management representative or an owner are important to determine the condition of the property before, during, and after tenancy, so it can be properly maintained, and if necessary, repaired.
Please note that it's important to perform an ocular inspection at least once a year during the tenancy. There may be problems a tenant doesn't notice, but an experienced residential or commercial property management person or owner would. And sometimes small problems can be prevented from becoming big headaches.
Legally, you must give at least 24 hours' notice to your tenants before performing an inspection. If you're expecting no major problems and they're basically good tenants, give them more notice and find a mutually convenient time, as this visit benefits both sides. Try not to take more than 20-30 minutes to do the ocular visit during the tenancy – you may need longer for larger commercial properties.
Use a dated form listing each room of the house and its parts, or each facet of the business and its rooms: walls, floors, lights, doors, windows, sinks, appliances, ceiling fans, etc. Get free forms online or make your own. Record the move-in condition and move-out condition. You and your tenant(s) sign the form, and you give the tenant(s) a copy.
During your visit, use your phone or a camera to take pictures of any changes, concerns or potential problems. Print out copies and file the pictures with each dated ocular visit form.
Make sure to check out these areas during your ocular visit:
Countertops/Flooring/Carpeting: Look for burns, stains, scratches, rips, tears, dents, scuffs, cracks, chips – in wallpaper look for bubbles, rips, or peeling. Also check for odors in carpets or rugs. If you left window treatments, check them over too.
Walls/Ceilings: Pass on the few small holes from hanging pictures and shelves. Focus on larger holes or damage from door knobs or furniture bumps, paint scrapes or scuffs. Have they repainted without permission, or with a non-approved colour? Did a sloppy paint job leave paint on the ceiling, on the floor, on the carpet? Has there been any major changes in the layout of the commercial venture?
Windows/Sinks: Look for broken, missing, dented or chipped taps or faucets. Check for mold and leaks above and under the counter. Make sure water faucets and hoses aren't dripping, and drains are not plugged.
Deck/Patio/Balcony/Exterior Siding: Look for cracked, warped, burnt, chewed or broken boards or siding, as well as chipped or missing stone.
Parking Lot: Look for potholes or gouges. Make sure any fences are not damaged. Take a drive by at night to see if all the lighting works.
Infestations: Check for frayed wires or chewed holes in walls in case of rodents. With bugs, look for roach motels or ant traps under sinks, furniture or in corners. Ask tenants if they're having any problems in this way.
Fire & Safety: Ensure the fire extinguisher is in working order and where it should be. Make sure fire detectors and carbon monoxide detectors are in functioning order (no batteries removed due to burnt toast). Look to see that safety exits are clear and not cluttered.
Illegal activities: Are the windows boarded up or do your tenants seem to always keep their windows covered in some way? Look for moisture damage and check for unusual scents. Do your tenants never seem to place any garbage out? There may be a reason they don't want their garbage seen.
Conducting a property ocular visit is an important part of maintaining a well-run property. I'd like to reinforce that owners and representatives of residential and commercial property management companies should book one or two ocular visits every year during an active tenancy – not just at the beginning and end of a tenancy. Twice would be ideal, once in the spring and once in the late fall. Regular inspections stop minor problems from becoming major concerns. It also offers the bonus of one more valuable mode of communication between you and your tenant(s).