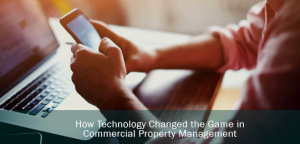 Commercial property owners who use management companies to handle the rental aspects of the property have found that technology of today makes the process much more advanced. From social media to websites, commercial property management companies can assist in a variety of ways to help property owners be more successful. But how does technology play a role?
Online Presence Improved
If you own commercial real estate as rental property, you most likely have some sort of website. With a commercial property management team, your website can be revamped or even changed completely to be of benefit to your property holdings. Websites should be connected to social media accounts, have a working blog and include the appropriate information to make your property attractive and successful. Team members can do this for you as they have the experience and know-how to improve the overall online presence of your company.
Marketing Strategies
Marketing your properties is essential to the success of rentals. You want your properties to be seen and rented by top businesses. With a commercial property management team in place, the right marketing strategies are used to get your property noticed. You will have only quality renters in place to provide you with a steady stream of income that will help you to find even more properties to use for commercial renting.
Social media plays a large role in marketing strategies. Your company should have a main page at all social media sites, including Facebook and Twitter. You want your company to be noticed and for commercial property renters to easily be able to find one of your properties that they could call home. With a quality strategy in place, you will be able to market your offerings successfully and gain renters with ease.
Software
Property management software has improved over the years to allow managers to handle all aspects of the property from one place. From repair concerns to monthly payments and deposits, programs have been created to provide managers with all rental information in one place. This makes it easy for your managers to be able to keep track of what is going on with a particular property and keep you informed. Have access to reports when you need them to see how a building is performing as well as what repairs or maintenance service has been completed.
Overall, technology plays a solid role in the success of your commercial property. With a quality team of managers in place, you will find your commercial property is rented out and providing you with a solid stream of revenues to use for further projects. With a management team, you will find that everything is taken care of for you. From gathering rent to handling the smallest repair, the management team takes point so you can focus on other areas of your business.
To have access to quality commercial property management services, contact Latitude Properties Limited today. You will find the company offers only the best customizable management options to assist you in the operation of your commercial rental properties.