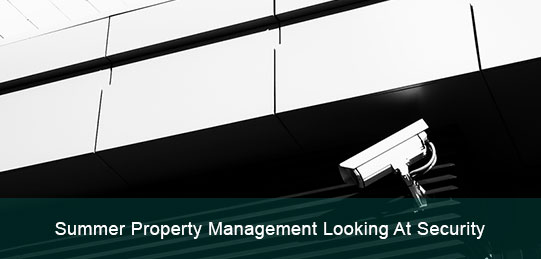 Summer is the most exciting time of the year. Increased activity during vacations and due to pleasant weather brings in more work but also calls for stronger security measures. Commercial or not, safety is an essential part of managing a property. Latitude Properties recommends looking into a couple of security issues before the beginning of the summer. Here are some of them:
Look Into Backgrounds Of Staff And Residents
The best way to ensure safety for your property is to run a background search of all people involved with it. When accepting tenants, make sure that their backgrounds don't raise any flags when it comes to possible activities. The same goes for staff, employees, and commercial property management service contractors. It is in your commercial best interest to avoid people who carry the risk of criminal behavior such as theft, vandalism and heavy crime.
To run a background search, first, check the references from prospective tenants and employee applications. This will ensure that they haven't misrepresented themselves. It's up to you to decide if you will tolerate past troubles with the law when it comes to tenants, but staff members and security workers should have a clean, crime-free history.
Property safety doesn't only include safety prevention. While cameras, safety locks, and alarm systems are essential for protection against burglaries and vandalism, educating staff and residents to use them properly. Also, make sure to provide them training in safety protocols, to ensure a proper and timely response in case of emergency.
Inspect And Boost Your Security Systems
Property safety equipment requires timely installation and maintenance. You'll need to have an expert look into alarm systems, cameras, and other safety installations to screen for any damage or under-performance. Before the summer arrives, hence the increased number of visitors circulating across the property, you need to make sure all of the security installations are up and running.
Different types of property require different security levels. Commercial properties that handle money or valuable items require a high level of security, while those hosting residents need a well-thought-out system against burglary and vandalism. An experienced commercial property management service contractor is the best person to recommend proper installation because they also need to balance safety measures with resident's and employees need for safety on one and privacy on the other side.
Educate Staff To Avoid Incidents
Make sure that all of the staff members understand the use of safety installations. You want to avoid issues like improper handling, lock-outs or false alarms due to lack of skill to navigate alarm systems. Whenever you're installing a new safety measure, have everyone concerned introduced to it and informed about the system's proper use. This will prevent careless equipment handling and ensure all of the safety precautions are being used in the right way.
Installation and maintenance of the property security measures require thoughtful budgeting, recruiting the right contractors, as well as dealing with state regulations and permit obtaining. These tasks can be overbearing for an owner to handle on their own, which is why Latitude Properties offers services in the client's best interest.