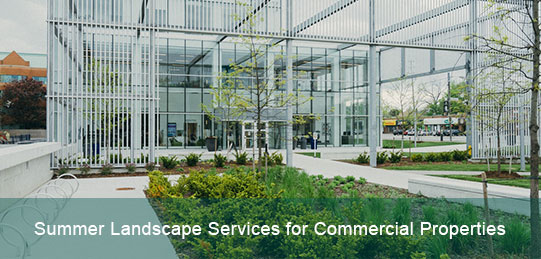 Maintaining a commercial landscape is a lot more than occasional watering and mowing. Proper landscape maintenance requires knowledge of irrigation systems, pruning and trimming, composting and plant nutrition, as well as planting. If you want a neat-looking landscape, or must have one for your commercial property, you need expert help with getting it ready for the summer. If you haven't yet considered the possibility to hire a landscaping service, Latitude Properties recommends thinking through a couple of issues:
Pruning And Bush Trimming Are Serious Business
There's so much to think about when getting the trees and bushes in the right shape. They need enough trimming to provide landscape visibility, but not as much as to ruin the beauty of the plant. Can you come up with the best shapes on your own? Probably not. Leave the bushes too lush, and you could find raccoons inhabiting them. Trim them too much, and you'll ruin the appearance of the exterior. Let the landscaping service do their job, and they'll find the perfect middle ground for you.
You may know how to operate a lawn mower, but do you know when and how much to cut the grass? Chances are you're thinking about the process of simply getting the lawn to look trimmed and neat. But, a professional will know the best times of the month and day to cut the grass, so that they don't damage it along the way. They will also pull out the weeds and line the sidewalks for a neater look. This will give out a more professional and formal impression.
When it comes to planting trees, bushes, flowers, and perennials, one must know how to balance the choice of species with the environment and the qualities of the estate. You might not have the time to devote to doing the research, but a professional commercial property management service will know which plants will grow well in the climate and soil of your area. They will also know which ones will complement the property and the landscape while remaining reasonably simple to grow and maintain.
Sidewalk Edging Makes A Difference
A commercial property requires neat sidewalks. Weeds along the edges of the sidewalk give out a messy and unprofessional impression, which could drive prospects away. Commercial property management service will use a special extension on their weed eater to make your sidewalk absolutely flawless. This is one of the tasks that have a major impact on the overall appearance of the landscape but is easy to overlook.
Getting and maintaining the right gear and look for a commercial landscape is far from easy. Also, you need to know enough about the tools as to not overspend on those that are far from what you need. A professional landscaping service works with a wide range of machines and tools and will use the best fit for your garden. If you need expert help with getting your commercial landscape in its best shape, you can count on Latitude Properties to provide trustworthy service.