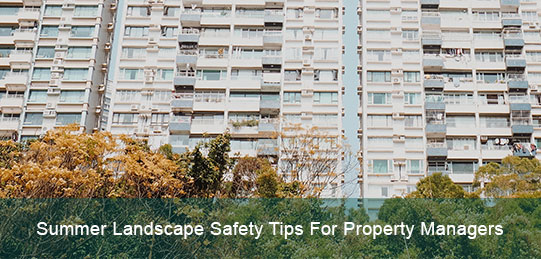 Landscape safety becomes more important during the summer as the activity in the estate increases. Both day and nighttime become the periods of constant activity, which requires you to make sure all parts of the landscape are properly handled and safe for people to use. For every property owner, worrying about the safety of users is more than human responsibility. It is also a matter of profit and legal liability since injuries and damage to material goods caused by landscape can fall on the property owner. For this reason, knowing the must-do's of summer landscape safety is the owner's major concern. Here are a couple of tips of summer landscape security from Latitude Properties:
Trim Bushes and Shrubs, and Light Up The Landscape
All parts of the landscape need to be clearly visible throughout the day and nighttime. If there are any areas that are unsafe for people and vehicles, you need to mark them and light them well for the users to be able to notice them. Areas that aren't lit well attract pests and animals, as well as criminals. This is another reason for you to have the landscape thoroughly checked during the landscape safety audit.
Needless to say, your staff and contractors need to inspect and replace all the lights that are out, as well as repair any damaged of the installations.
Overgrown bushes are a great hiding spot for criminals and animals, which is why you don't want them on your property. Have a gardener trim the plants so that they don't throw shade on the parts that need to be visible and don't block the view of the landscape. This way, visitors, and tenants will feel safer, and the landscape will look pleasant and polished.
Control Traffic With Top-Notch Walkways
The increased summer traffic requires the walkways to be brought into their best possible shape. You need a contractor to inspect for cracks and possible safety concern. Next, you need to handle all the necessary repairs before the beginning of the summer. You don't want any bumps or uneven surfaces ruining your landscape and making you liable for damage and injuries. To prevent unpleasant events and legal liability for damage and injuries, commercial property management service experts recommend hiring certified contractors.
Aside from previously mentioned, getting the property landscape ready for the summer requires repairing fences to prevent break-ins and accidents. It also requires you to check for damaged or unsafe wires, holes people could trip on and proper irrigation. If you feel lost with all of the tasks to complete and regulations to abide by, you'll probably be best off hiring a commercial property management service contractor.
Expert help will ensure that your property remains pleasant-looking throughout the entire summer and that all of the possible accidents are prevented. This way, you won't fear incidents and legal liability. If you're looking for help with summer property security maintenance. Latitude Properties offers expert services.