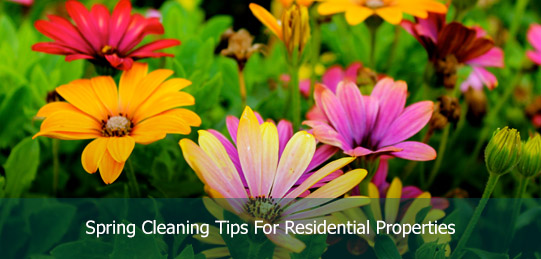 When talking about residential property management services, one of the most important jobs for homeowners, landlords and property managers alike is spring cleaning. In fact, spring cleaning is a must for those who want to make sure that their home or residential rental property is as functional and nice looking as it can be. The obvious question when it comes to spring cleaning is how and what activities you should consider a priority and which ones you could do without.
Residential Property Management Service: Spring Cleaning Done Right
Spring cleaning is an activity that needs to be performed both indoors and outdoors. It is up to you where you decide to start. The outside area of your property is typically important for first impressions, while the indoor rooms are where your tenants or buyers will spend most of their time. Here are a few tips and suggestions on how to perform spring cleaning on your property:
Bathroom cleaning

Kitchen cleaning

Bedroom cleaning

Window cleaning

Outside cleaning

De-cluttering & throwing out
Bathroom Cleaning
Cleaning the bathroom in the spring is one of the most important services in residential property management you can do for future tenants. Ensuring they arrive to see a pristinely clean bathroom will help with making a good impression. Start by cleaning the walls and tiles and work your way to the tub and shower. It is a good idea to add the cleaner to the tub and toilet and then leave it to set while you clean everything else. This will ensure a more detailed cleaning process and will also help with any stubborn stains.
Kitchen Cleaning
Cleaning the kitchen is similar to cleaning the bathroom. You can work your way around in a circle and save the stove for last. The stove is typically one of the dirtiest appliances in the kitchen because it is the most frequently used. If you have other hard to clean items or appliances in your kitchen, you can try soaking them in the sink while you complete the rest of the kitchen cleaning. This will make them easier to clean at the end.
Bedroom Cleaning
When tackling the job of spring cleaning, keep in mind that the bedroom is also a significant point of interest for potential tenants or buyers. That is what makes ensuring your bedroom is at its best a crucial residential property management service. Start simple: straighten up the dresser and drawers, organize the closet and make sure the bed is made. Thoroughly clean any dust and wipe down any mirrors you might have in your bedroom. Afterwards, finish up the process by wiping or sweeping the floors to give the room its final touch.
Window Cleaning
Typically among the most hated residential property management services by landlords, property managers and owners alike, window cleaning is still very important. There is nothing like clean and transparent windows on a home or property. Using the right cleaning mix is a big help; try adding some soap or vinegar water for really dirty windows. On the other hand, plain water saves time and works just fine for a light rinse.
Outside Cleaning
Keeping the outdoor areas clean can be easily done with a leaf blower or simple broom. Remove dirt and leaves with a gentle sweeping to ensure your deck, porch or patio look great. Alternatively, you can apply a light vinegar mix to remove weather stains or do a quick washing with a power washer. The outdoor areas of your home play an important role in first impressions and it is important to keep them looking as good as possible.
De-cluttering & Throwing Out
Cleaning is best done when you have lots of free space in your home. You can free up some space by using the springtime to pull out and remove things from your garage, storage areas, basement, attic and other parts of your home you don't need. Think about what you and your home really need and throw away the rest. It can be hard to let go of things you are used to owning, but it is important to keep your floor and home space open and usable. As far as residential property management services go, keep in mind that de-cluttering and throwing out old belongings are among the most important.
In Need Of Professional Residential Property Management Services? Go With Latitude Properties Limited
Latitude Properties Limited has been at the forefront of providing industrial, commercial and residential property management services to clients for years. Consisting of trained and passionate professionals, Latitude's property managers are experienced in managing and solving property issues quickly and effectively. Whether it is spring cleaning, regular maintenance or on-the-go problems, rest assured that Latitude Properties Limited has what it takes to ensure your residential property remains profitable.