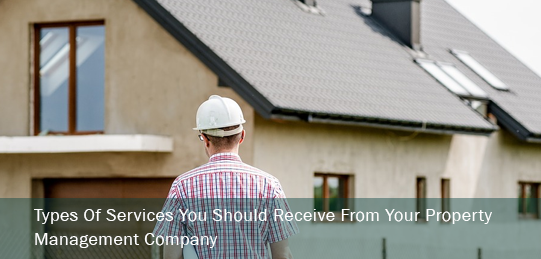 When you hire a real estate property management company, you have certain expectations – or at least you should have – of what you want and need from them. These companies are meant to make life easier for property owners like you, by professionally caring for your property or properties, and the associated people – your tenants. A good residential property management company does this by providing services to make life run smoothly for the tenants, and maintaining and repairing the properties those tenants call home. In effect, caring for your investments.
Here are the basic services you should or can receive from your property management company:
Evaluation of Property/Unit & Rent Determination: documenting the inside and outside (if applicable); offering suggestions on repairs and improvements; investigating local rental rates to determine appropriate rent; discussion about policies on smoking, damage deposit for large pets,
Marketing Your Property/Unit: repairing, painting and refreshing the interior, having it professionally cleaned; landscaping to bolster curb appeal; creating enticing, informative advertising; screening calls and emails for prospective tenants; arranging showings; supplying appropriate rental applications
Tenant Screening/Selection: verifying identity, income, credit history, rental history, reference checks, and care of past property
Tenant Acceptance: drawing up & signing the lease; collecting first and last month's rent, as well as a damage or pet deposit if required; ensuring tenant has apartment insurance; walk- though of unit with pictures to verify the move-in condition of the property; reviewing rules and guidelines or giving tenant a copy of them; scheduling the move (especially if elevators are involved)
Collection of Rent: receiving rent at beginning of each month; following up on late payments (enforcing late fees); delivering pay or quit notices; processing rent received; sending reports to owners
Financial Services: payments on behalf of owner (insurance, mortgage, etc.); documentation of expenses (invoices & receipts); maintenance of historical records (paid invoices, leases, inspection reports, warranties, etc.); annual reporting; monthly cash-flow statements with breakdown of income and itemized expenses
Repairs & Maintenance: dealing promptly with repairs 24/7 to prevent small problems from becoming bigger and more expensive ones; consulting owner for major repairs/replacements; maintaining a network of licensed, bonded and insured contractors to provide affordable work to code; apartment painting, lawn cutting, leaf removal, landscaping, snow removal, salting, trash removal
Periodic Inspections: once or twice a year; evaluate how tenants are caring for property; putting a stop to unsafe or inappropriate use of property; noting and stopping code violations, lease violations; reports sent to owner
Legal Situations: knowledge of local, provincial, federal laws and legislation applicable to rental properties; advising in litigation or legal disputes; having name of qualified lawyer
Evictions/Collections: knowledge of local Landlord and Tenant rules; filing necessary paperwork; representing owner in court proceedings; working with law enforcement to remove tenant(s) from premises
As you can see, there's a lot involved in properly managing an investment property – and these are just the basics! Only the best real estate property management companies go the whole nine yards to make sure you get the most out of your properties – and that includes prompt and consistent communication as well as accountability.
Before hiring a company, get recommendations from real estate agencies or mortgage lenders at banks, go and personally look over some of the properties a company manages, check on-line for comments from current and previous tenants. If you do choose a residential property management company that's not working up to the standards you expect, don't waste any time finding a better one. Remember, it's your investment at stake!