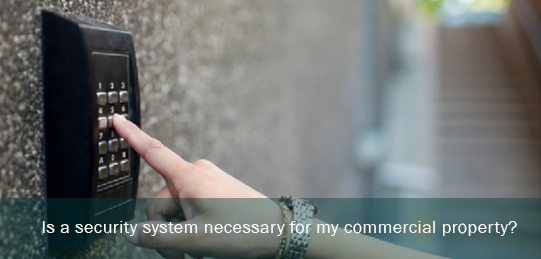 When owning commercial property, there are several challenges that come into play when it comes to the management aspects. Safety of employees is a big concern and can be a liability of the property owner. Often times, security measures are overlooked, especially by those who are just entering into the world of commercial ownership. Not only should those on site be protected, but you also want to have a deterrent when it comes to theft and vandalism. Your commercial property management team might suggest a security system be put in place to help with such issues.
Regulations for Security
To begin, you can look at insurance for commercial property to see what types of risk management areas you need to cover. You want to make sure that your property is covered in the event of a problem, be it a natural occurrence or vandalism, theft, etc. With property insurance, you are ensuring that the building as well as contents are protected as well as insured. With Liability/Excess Liability insurance, you are protecting and insuring against any bodily harm or injuries that are caused by accidents that take place onsite. A fidelity bond is a form of insurance that you are taking to ensure fraud is monitored and managed within your property.
Property Management Assistance
When you have a property management team in place, they should offer you services to assist with keeping your property safe. A risk assessment can be conducted to see how the property is being protected and the likelihood that an issue could occur such as theft or vandalism.
This assessment will include if security equipment should be added to the property and what kind. The perimeter of the property as well as exterior and interior can be reviewed to see if there are any gaps in the security of the space.
Security System Types
There are several options for security systems that can be installed within your property. This can include intrusion alarms and CCTV, security guards or monitoring stations. With intrusion alarms and CCTV, you are installing closed circuit cameras that will constantly monitor the outdoor and indoor areas of your property. 24/7 monitoring can be implemented with verifications of alarm triggers sent to your mobile device so you can view remotely when an incident occurs.
If a risk assessment finds that you need a security guard, or issues have taken place in the past, never hesitate to hire professionals. Around the clock security can give the renter peace of mind as well as help you provide a safe property for the business to operate. Monitoring stations coincide with the CCTV installation and should be manned so potential thieves or vandals will be caught in the act.
Overall, these are just a few ways you can protect a rental property. Learn more by consulting with our property management experts at Latitude Properties. We are well-equipped to handle your rental security needs as well as manage the properties on a full scale. Contact our office to learn more about our service options.