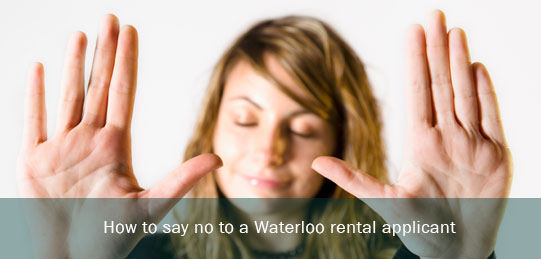 As a landlord, a nightmare situation can occur when you are renting to a stranger in Waterloo only to find out that you are locked into a binding contract with someone who is not fit to be a tenant. Negative tenant situations are not uncommon and can include unclean properties, property damage, harassment and more. You must do your due diligence in order to find quality tenants and this includes an application process. It can be a tricky situation to reject the application of a tenant and learning how to do so legally is essential to avoid a lawsuit.
Know What Not To Do
To begin, you must know what not to do. The Human Rights Act of 1985 in Canada says that a landlord cannot reject a tenant application based on identified prohibited grounds of discrimination. This would include rejecting an application due to skin colour, race, origin, sexual orientation, sex, family status, age, marital status or pardoned offenses. You cannot require a tenant to provide you with a social insurance number but you can still run a credit check without this information. A residential property management team can help you with the application process and ensure that no discrimination is made when considering an application for occupancy.
What Can You Do?
Now on to what you can do. Rental property owners have the right to take many factors into account when considering to approve a tenant application or reject it. This will include information on the applicant's income, references, rental history and credit check. The landlord does not have an obligation to rent to every applicant that fills out an application. Prospective tenants can be rejected based on any concern by the landlord as long as the reasoning does not break the Human Rights Act. All legal avenues should be considered before you turn down an applicant, especially if you think an individual might be a problem in the future. You have to provide concrete reasoning for the rejection in order to do so legally.
Processing Applications
Every tenant who fills out an application should be considered equally. Applications should be processed in the same manner each time in order to be fair. The rental application should be filled out in full with information on their current employment, contact information for references, yearly income, previous landlord info, government identification, etc.
Applicants should be informed of your decision in a timely manner, whether they are approved or rejected. This allows the tenant additional time to find a new property to apply for if they are rejected.
One of the best options is to hire a Waterloo property management team to handle the day to day operations of your rental property, including tenant applications. A qualified management team has the insight and know-how to choose the right tenants for your properties.
At Latitude Properties, we can easily assist in managing your rental properties including finding the right tenant for each of your properties. Contact our office today to find out more.