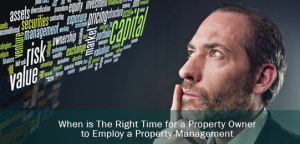 Being a property owner is a great way to provide steady income for your family. If you are just starting out, you may own just one or two pieces of residential property that you rent out to individuals as you try to earn a profit. You may soon find that owning rental property can be exhausting, especially if you are doing it all by yourself. There is an option that can be helpful to sharing the work load and allowing yourself to focus more on the business side rather than dealing constantly with renter issues. Hiring a residential property management service will provide you with essential assistance to see your new business blossom and grow. But when should you hire such services? Read on to see just when you should begin working with management companies as you become an invested rental property owner.
Consider the Properties You Own
If you have just one or two residential rental properties, then you are most likely able to handle the business side such as taking rent, handling repairs and maintenance, etc. If you have multiple properties, you may soon begin to feel overwhelmed. There is only one of you and having multiple calls for repairs or issues can easily become too much. This is a clear sign that you need help. Residential property management service companies will be able to provide you with the essential services needed to care for every customer.
Consider this. If you are handling each property yourself, you will soon fall behind in regards to requests or repairs. This is not providing good customer service. With a management service in place, you will be able to provide quality customer service to every renter, handling any problem along the way.
Building Your Business
If you are looking to build your rental business, then it is time to hire a management company. You will find having a team of manager's helps with marketing strategies, building an online presence, providing quality service to renters and so much more. You will be able to focus your time on gaining new properties while the managers handle the day to day operations of your business.
If you were taking care of everything yourself, you would not be able to search for more properties or even take on additional residences to use as rentals. You would have no time to do anything. Having a team of managers in place provides the services renters expect and helps you to see your business grow and expand.
As a residential rental property owner, it is important that you can recognize when you need help. Do not let yourself fall behind in customer service as this can be detrimental to your business. Have an open mind and let a team help you to be able to provide the best service to your rental clients.
Find out more about residential property management by contacting Latitude Properties Limited today. Services can be customized to your individual needs so that you provide the best care and convenience to your renters.