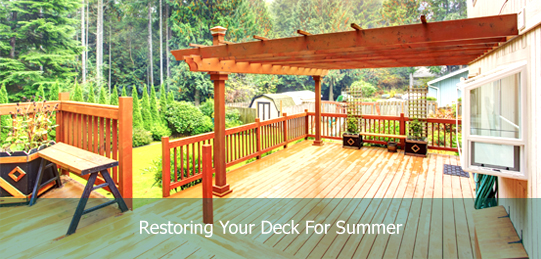 A new natural wood deck is both a functional and aesthetically pleasing addition to a home. It can provide a stunning stage for outdoor recreation, entertainment and more. Chances are that several years later your wood decking will have deteriorated as a result of rain and sun. It will most likely be weathered, cracked and grayed. Obviously, you can't let your deck stay that way if you're looking to ensure good residential property management for your Kitchener home, so you're left with only one option – restoration.
How Do I Go About Restoring My Deck?
It needs to be said that this can be a time-consuming, labor-intensive and expensive task for a landlord. Hiring a professional property manager is definitely the better and recommended option as it saves you from the stress of having to do it yourself. That being said, here are some tips if you're adamant about taking the DIY approach:
Start by cleaning the surface

Remove the previous finish

Get rid of any stains

Revive the old wood

Apply new finish
Surface Cleaning
First, clear the deck's surface of debris and leaves by using a leaf blower or broom. Poke or pry out any leaves or debris that are stuck between the decking boards and then blow off or sweep the entire deck surface again. Next, buy a good commercial deck cleaner that removes graying, dirt and mildew. Wash the deck with the cleaner (make sure to wear safety glasses and rubber gloves). You can scrub by hand or with a mop.
Removing The Old Finish
In case your deck has a flaking finish or old, oxidized peeling, use a deck finish stripper to get rid of it. Some finish-stripping products are toxic and caustic while others are biodegradable and mild. Initially, buy a small amount and test it on a very small corner of the deck. Wear eye protection, rubber gloves, and protective clothing when using the stripper and apply it with a hand-pump garden sprayer, roller or synthetic brush. Rinse both the deck and surrounding plants thoroughly with water after leaving the stripper on the wood as recommended by the label.
Getting Rid Of Stains
This stage is when you need to remove any mold, algae or other stains that may exist on your deck. Depending on whether or not your deck is cedar or redwood, you'll have to opt between chlorine bleach-based cleaners and non-chlorine oxygenated bleach. The former can be used for removing mildew, mold or algae from redwood and cedar decks as it will not damage the wood fibers or colour. The latter should be avoided for cedar and redwood decks but can be used for stains on other types of decks. After all, ensuring a well maintained home involves doing a thorough job of restoring your outdoor deck, which means keeping it protected and stainless.
Reviving The Old Wood
In order to revive the wood's original colour and beauty, removing gray aged wood from the surface, simply use a commercial deck restoration product. Many of these products can be bought pre-mixed; but, it's more affordable to buy crystals that you mix with water in a non-metallic container. Simply mix and apply the product as indicated on the label. The same goes for rinsing.
Applying The New Finish
A deck needs to be finished with a stain or paint that repels moisture and rejects UV light. Instead of choosing a finish that is just water resistant, opt for one that is water repellent or waterproof. The formula should not only be protective against UV rays but should also contain a mildewcide in order to kill mold spores. Apply the finish with a brush or pad in line with the wood grain and according to label directions. And voila – you'll experience lasting beauty for years.
Restoring Your Deck Too Challenging? Let A Latitude Property Manager Deal With It
A particular downside to managing your own property is that you have to deal with restoration and maintenance jobs like deck refurbishing by yourself. Instead, why not let an experienced property manager tackle the job for you? Latitude Properties Limited is home to a team of expert property managers who are in the know about how to bring more value to your rental. That's what makes them the ideal choice if you need good residential property management in Kitchener. Simply get in touch with Latitude to have a professional take over managing your property and let them worry about restoring your deck for summer. Call Latitude today and form a lasting partnership.