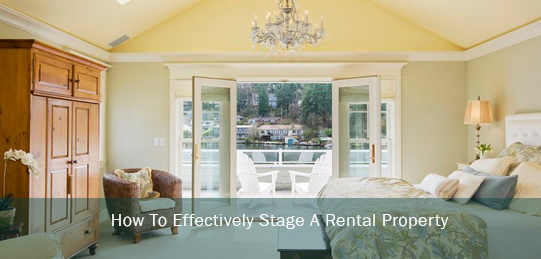 When looking to rent or sell a property, it makes perfect sense that making it look good is a must. However, in many cases, a simple tidy up isn't going to cut it. There are a number of additional considerations to take into account, especially since interested renters or buyers are going to pay close attention to detail. Staging properties for sale is considered a standard residential property management service; if the pros are doing it, you'd be wise to as well. Make sure to pay attention to the following:
Current Tenants Need To Be In Agreement With Your Staging Plans
When it comes to showing a home or apartment to interested parties, the perfect situation would involve an empty property. For most property owners today, however, the reality involves showing their real estate with tenants in place. The best course of action here is to sit down with your tenant and have an honest and heartfelt conversation. Letting them know what you plan to do in terms of cleaning, repairs and the like is often the safest and least inconvenient option. Since most people are agreeable and will want to help, arrange a showing schedule with them in advance and let them have it beforehand in writing in order to avoid confusion. Alternatively, offer to pay them for a hotel for a weekend if you want to arrange showings.
Cleanliness Is The Most Sought After Service In Residential Property Management
It's no secret that cobwebs, dirt, and dust are all huge deterrents for prospective tenants and buyers. Make bathrooms shine, ensure appliances like fridges and ovens are spotless and get carpets steam-cleaned. Remember not to miss anything and include garages, window sills and windows as well. This also goes for decks, walkways, and any lawn maintenance or landscaping your property might need. After all, if you have no problem spending $200 on detailing a car before selling it, why shouldn't you hire a cleaning company to do a deep clean of your property before renting it?
Understating The Importance of Details Is Impossible
If you have a regular-sized property and are lucky enough that it's empty, it doesn't take a degree in interior decorating to stage it yourself. In other words, this is a residential property management service most landlords can do themselves for a reasonably low cost. Sensible suggestions include paintings on walls, little flowers in the kitchen and perhaps nice linens in the bathroom. Also, steer clear of bulky furniture and stick with accent pieces. That way your property will look like a blank canvas ready to be decorated by the new tenant.
Staging Companies Can Do Wonders For High-End Properties
Contrary to the previous tip, high-value properties are ideal for using staging companies. If you lack the time or skill set to do it yourself, keep in mind that a professional staging company might be the way to go. Naturally, there are good and bad staging companies out there. Ideally, you'll want to ask for referrals and pictures of previously done properties. It is also a good idea to personally visit a property they have staged before if such an option is possible. Keep in mind that Latitude Properties Limited offers assistance with a number of services in residential property management.
Repairs And Upgrades Are Also Important
Before you rent or sell a property, remember that light fixtures and flooring are two key areas that might require your attention. It is best to replace obvious items like worn-looking light switches, broken door handles and chipped handrails. Also, replace any carpets that need it or install laminate flooring.
Perform A Short Test With Some Friends Before You Call In Potential Renters
Ideally, you'll want to use your most critical friends to do a walkthrough before you unleash the property on the buying public. They should be able to point out any items that still require repairs, as well as any obvious flaws. Most importantly, they will let you know if they would be encouraged to rent the property based on its current appearance. If you happen to disagree with them, keep in mind that companies like Latitude Properties Limited that offer professional residential property management services are more than happy to provide guidance and expert assistance.