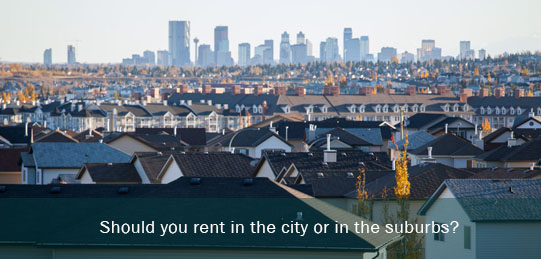 When renting a dwelling in a major city of Canada, you usually have one or two options as the renter; living in the inner-city or the suburbs. So as the renter, you have to decide if you wish to live in either area and look at the pros and cons of each. By seeing the up and downs to both areas, you can make the best living decision based on what you need as an individual. Below is a comparison of each type to help you decide.
Suburban Living Pros and Cons
We will begin with suburban living. When living in the suburbs you have several pros but also cons. Use the following information to compare to city living to see which suits you best.
Pros:
Larger apartments and homes for rent with lower prices
Larger outdoor space available with the rental
Can include a community centre, clubhouse or private outdoor space to enjoy
Developers are creating new areas that are inner-city focused so you have access to the culture and amenities found in the city but in a more attractive setting
Price points can be lower so you get more square footage for the price you pay
Cons:
The biggest negative of suburban living can be the commute. If you work in the city, you may find you are traveling for a longer period of time at the beginning and end of your day. Traffic jams can also be an issue which can lead to longer commute times.
Culture and activities may also be lacking in a suburban area. If you wish to be in the middle of cultural experiences, you will most likely not find this in a suburban setting.
City Living
Now, let's take a look at city living. Compare the pros and cons of this lifestyle to see what suits you best.
Pros:
One of the main pros of living in this area is the proximity to everything. Rentals in the city can easily be within walking distance to restaurants, shopping, work, etc. You will be close to the theatre, entertainment and more, providing you with many alternatives to enjoy.
You will also most likely have a short commute if you work in the city. You will save many hours each week by choosing an apartment or condo in the city as you will not have to drive for hours to reach your workplace.
You will have more options if you act fast. Apartments do not stay empty for long in the city. But you will have more options as there are more condo and apartment buildings located in a city setting.
Cons:
Perhaps the biggest con to city living is the expense. You will not get as much square footage for the price you pay in the city as you do the suburbs. You will pay more per square foot so you may have to settle for a smaller place in the city.
This type of lifestyle is also not well suited for young families. Depending on where you live in the city, you may not have access to a green space for the kids to play or grocery stores for items you will need. You may also find the area is too loud for small children.
Latitude Properties in Waterloo can help you to narrow down your choices when it comes to rental properties in the city or suburbs. You want to find the right option for your lifestyle needs. Contact the office today to see a few examples to get an idea of where you might wish to live.