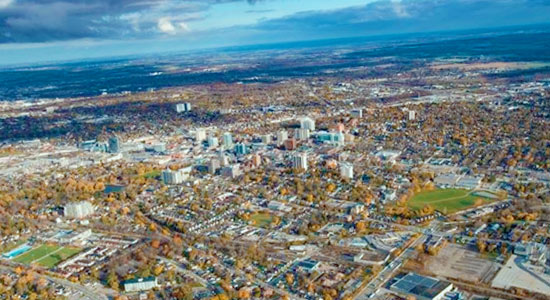 The demand for industrial space is high throughout the Waterloo Region and owning an industrial property can be a great investment. But remember, properties don't take care of themselves and they need to be well managed in order to generate a good income. Even a market with a high demand for industrial property doesn't automatically guarantee full-time occupancy. Your property needs to appeal to the right industry and offer tenants a good, workable space.
Industrial properties can be divided into different categories and it is important to understand where your property fits in the market. This will help you advertise it correctly and choose suitable tenants.
Light Assembly and Flex Warehousing
Light assembly and flex warehousing are simple, straightforward industrial spaces and are usually relatively easy to reconfigure or transform. The types of businesses that use these spaces are predominately small distribution companies, research laboratories, and tech or telecom companies.
Bulk Warehouses and Heavy Manufacturing Plants and Factories
Bulk warehouses and heavy manufacturing plants or factories are larger properties and are often designed to house customized machinery. These properties have different requirements and different types of tenants to the smaller warehouses and need to be managed differently. Bulk warehouses usually deal with large quantities of stock and need access for large trucks. Heavy manufacturing plants need to be configured to house heavy machinery. This can mean specialized building regulations and requirements.
A Specialized Service
Industrial property management services are regarded as a subcategory of commercial property management and are a specialized service. Managing an industrial property is time-consuming and mistakes in this industry can cost a property owner a lot of money. This means it is important to get expert advice. Latitude Property Limited has the experience and expertise to manage industrial properties effectively and offers a wide variety of services to assist you with all your needs. The service starts with screening tenants and matching the right tenant to the right property. We have a thorough screening procedure and we also have an extensive knowledge of contract requirements and apply contract clauses and government procurement regulations where necessary.
Good Advice
It is important that your building always looks appealing and is well maintained. Latitude Property Limited will ensure that tenants maintain your building properly and that any improvements or alterations don't alter the long-term flexibility or marketability of the space.
To improve the marketability of your industrial property, it has to have the flexibility to meet various needs and it is important to stay on top of property and industry trends. Latitude Property Limited is able to advise you on the changes in industrial property trends and regulations. This information is essential when making decisions about renovations and alterations as making the wrong decision can be a very costly mistake.
At Latitude Property Limited we keep our clients up-to-date with regards to changes in government regulations that apply to certain industries and the properties they occupy. Part of the service is ensuring that client's industrial properties meet government standards and adhere to industry regulations.  
Industrial property management services are diverse and complex. At Latitude Property Limited we pride ourselves on staying on top of the game at all times and being able to give our clients good advice.