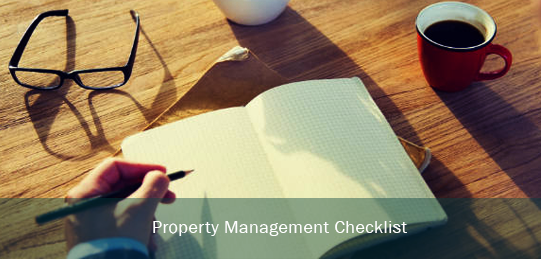 When taking on the role as a property manager, there are several factors that need to be considered in regards to the property. As the manager, you are in charge of every aspect so having a checklist is essential to not forgetting anything that needs to be done. By providing quality service to the client, you will be able to build a successful career as a property manager. Property management service companies can be big business, in both the residential and commercial real estate industries. Learning how to be the most effective as a manager will ensure your success in the position.
Property Checklist
To begin, you need to have a checklist that includes the properties you will be managing. This list should have the property listed by name along with address, plus if any tenant is residing or using the property for business use. Contact information should also be listed so that you can reach the tenant quickly based on location.
Organize the property list anyway that works best for your managing style. You can have the properties divided by location, residential or commercial, etc. Find the best option for your managing needs to be able to find the info you are looking for quickly.
Rental Payments
Part of being a property manager is taking care of rental payments. You must ensure that each tenant makes payments on time. Have a checklist or calendar in place so that you are reminded of when payments are due. This way, when a payment is not made, you can send a late notice or be ready for an eviction if rent continues to be unpaid. Have a folder online or paper copies to list who pays and who is late so you can keep track of rental payments each month.
Maintenance
As the manager, you are also responsible for the maintenance and upkeep of each property. You will need to have a checklist that includes when HVAC maintenance, plumbing checks, electrical, pest control, etc. services need to be completed for each property. The maintenance needed will be based on the location of the property as well as how the property is used. Keep track of this information so you can stay on top of maintenance needs to ensure that all tenants are happy with your performance.
Consider adding this checklist to your daily schedule:
Rental payments

Check for empty properties

Go over any applications sent in by tenants

Check for any maintenance needs

Check for any tenant complaints and take care of as necessary
Overall, you need to create a customized checklist that meets your property management style and needs based on who you work for and what type of properties you are managing. By creating a customized list, you can stay on top of your daily duties and provide each client with maximum satisfaction.
At Latitude Properties, we offer specialized service for each of our clients. We work hard to ensure that your property is cared for in the proper manner. Our checklists include every aspect of your property to ensure your tenants are happy with their rental property and you continue to earn a profit.