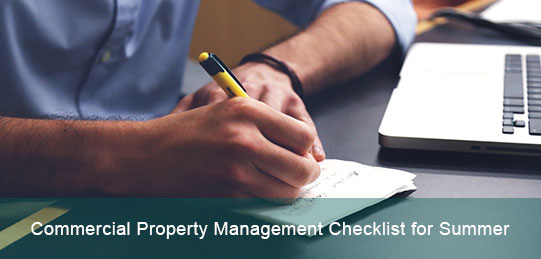 Summer brings many joys, but also a plenty of responsibilities when it comes to property maintenance. Winter and spring leave a lot of exteriors and interior damage behind, such as dirt to be cleared out, heating and cooling systems to be taken care of and prevention against storm and flood damage.
Latitude Properties recommends taking care of following tasks before the beginning of the summer:
Safety Supplies Come First!
It's about time to stock up on emergency supplies, which are necessary in case of drastic weather changes, rains, and possible floods. If you haven't done it yet, work through emergency protocols with staff and tenants. It's always a good idea to have everyone visiting the property aware of the safety protocols. It will prevent accidents and chaotic state in case of emergencies.
Adjust Air Conditioning Systems
Summer heat is difficult to endure, so make sure to get your cooling systems in their top shape. The last thing you want is for them to lag during unbearable temperatures. If you're hiring industrial property contractors for this work, look thoroughly at the contracts, repair and improvement plans, but make sure to follow through with safety and environmental regulations and protocols.
Another thing to look into is seasonal costs and possible savings. Timely repairs will most likely prevent urgent repairs and adjustments, which will result in smaller costs.
Make Those Roofs Storm and Pest-Proof
From a monetary aspect, neglected roofs are a possible money pit. They pass water and pests, which can result in further damage to the infrastructure of the building. Repairs are in order, which will include the replacement of damaged elements, clearing out and sealing. Schedule seasonal roof maintenance and invite the property management contractors to inspect them for damage, but also to inspect and clear out the drains. They need to be clear of any mud or fallen leaves to avoid clogging.
Give Gutters the due Attention
You need to make sure that the gutters are clear of debris and sealed to prevent leaks. In larger estates, this is the job best done by professionals. Have an expert look into the possible adjustments and improvements, to secure the exterior against floods.
Clear Out the Exterior and Polish the Landscape
Seasonal clean-up is necessary to get rid of any trash, mud, leftover debris, but also organic waste that could have piled up during the winter. Have a contractor look into all elements, wooden and iron, and inspect for traces of rust or rot. Fix and paint benches, fences, resting areas and other elements that need attention.
Get the plants pruned and plant new ones if necessary. This is the time to have a gardener look into the garden and suggest new supplements or replacement of the sickly plants with the new ones.
As an estate requires many thorough inspections and repairs to secure yourself and the tenants a pleasant summer, timely maintenance becomes the top priority. If you're unsure of your own skills and resources to handle the repairs yourself, call Latitude Properties for simple and convenient property management.