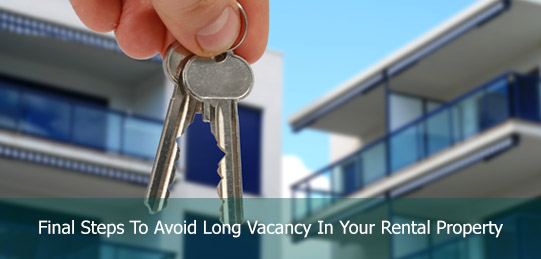 The number one reason why so many property investors run into difficulties when they first venture into managing their own properties is that they underestimate what it takes to succeed. Lacking the knowledge, resources and most importantly, time ends up being a huge blow for many property management first timers. There are ways to avoid some mistakes and streamline the process, which can greatly help reduce unnecessary vacancy days. Commercial property management services are a serious matter and some helpful steps were discussed in Part 1 of the series. Now it is time for the final steps to minimize needles vacancy days across your commercial properties.
Commercial Property Management Services: Final Steps
After following the first 5 steps to avoid long vacancies in your rental properties, it is time to complete the process by also following the final 5 steps. These include:
Reviewing applications from potential tenants

Performing thorough background checks on every applicant

Narrowing down the list of most eligible tenants

Handling move-ins and lease signings

Keeping up with updates, regular checks and follow up
Reviewing Applications From Potential Tenants
When it comes to management services for your commercial property, collecting applications from as many potential tenants as possible is a crucial part of the process. Why? Because it ensures the best chances that you find the ideal tenant more quickly. Not all tenants are created equal, which is why it makes sense to collect and review applications from as many of them as possible. After ruling out ones you are not comfortable with and those that don't meet your criteria, you will be left with a smaller number of worthy potential ones.
Performing Thorough Background Checks On Every Applicant
This step in ensuring there are no long vacancies in your rental properties is very important. Well screened tenants are more likely to stay longer. Additionally, it can also help you avoid costly turnovers later on. That is why you'd best screen each application and perform highly thorough background checks on all potential tenants over 18 years of age. Included in this should be rental, employment, credit and criminal history.
Narrowing Down The List Of Most Eligible Tenants
After such a thorough and detailed screening process, you need to come to a decision. Deciding on several or, ideally, just one tenant is crucial for moving forward with the process. Professional commercial property management service providers like Latitude Properties Limited will work alongside clients to offer guidance and advice in such situations. However, if you are confident you have selected several of the most eligible tenants (or just one), you can proceed to the next step.
Handling Move-Ins And Lease Signings
After making your decision, it is time to handle the process of signing the lease with the tenant, being there for the move in and attending to all the details. A particularly important activity to perform during this step is to have a detailed and honest conversation with the tenant. The purpose of this is to make sure they understand your expectations very clearly. This can save you a lot of headaches down the road. When the tenant knows not to expect any leniency whatsoever from the landlord, it saves a lot of stress for all parties involved.
Keeping Up With Updates, Regular Checks & Follow Up
Providing services in commercial property management doesn't end with shaking the tenant's hand and walking away for the day. It is important to keep in touch with the tenant via regular and established communication channels. This is done to ensure you are always up to date with what happens on your property. It can also come in handy with maintenance tasks, but most importantly, tenants tend to have more respect towards landlords and property managers when there is constant and sincere communication between them.
Professional Commercial Property Management Services: Latitude Properties Limited
Handling commercial property management services successfully by yourself is admirable, but it can also take a toll on your personal life. It is a time- and energy-consuming activity; one that is best left to trained and experienced professionals. The A+ team of expert property managers at Latitude Properties Limited will be more than happy to offer a helping hand to anyone struggling with their rentals. Contact Latitude today and entrust your property to your new partners.
Related Post: Part 1: Steps To Avoid Long Vacancies In Your Rental Property