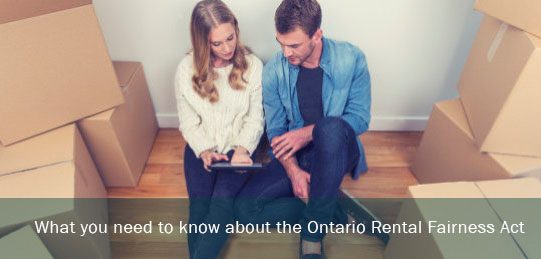 Whether you are a renter or a landlord, it is important to understand the Ontario Rental Fairness Act and how it applies to you. The Residential Tenancies Act is currently being tightened in Ontario with standardized leases being introduced, which can lead to tenants having a hard time removing themselves from a tenancy agreement. Understanding the legalities of renting, from a tenant and landlord perspective, will help you to stay protected when renting or providing the rental property. Read on to understand more and how it applies to you specifically.
Changes Made
The government of Ontario made several changes to the Act that will benefit both tenants and landlords. In the past, buildings built after 1991 were exempt from rent control guidelines. This will now change. The government also decided to stop landlords from increasing rent due to an increased utility cost, this of course would be a plus for renters.
For landlords, an additional issue now exists due to the misuse of N12 forms. Landlords were using Notice to End Tenancy forms in order to move out tenants to provide the space for family or a purchaser. Now, the government has made it more difficult to move into your own unit or to sell it. Landlords will now have to offer another unit to the tenants they expect to move or compensate the move with one month's rent. This is on top of the usual requirements of the N12 form such as 60 days notice as well as the landlord or their family member now have to live on-site for a year minimum.
As the landlord, you must learn these new rules and abide by them. If you find that you have a hard time keeping track of legal changes, you can certainly benefit from the assistance of a rental property management company. Such companies offer quality services to ensure all rules and regulations are followed in regards to your property. This will include tenant applications, tenant issues, taking up rental payments, repair service, regular maintenance and more.
You will have a team in place to handle the day to day operations of your rental property. Latitude Properties Management can provide these services to your benefit. Landlords will have all regulations followed so no legalities are found in the future. All properties are managed correctly with quality tenants chosen based on application criteria. Overall, you will see each property taken care of in the best way possible so you continue to have properly functioning rental properties.
As far as renters are concerned, it can be best to find a property that is managed by a top-rated company such as Latitude Properties. This way, you know the property is cared for consistently and you will have a lovely place to live for as long as you like.
Overall, it is essential that landlords and renters know the rules in regards to rental properties and work hard to abide by these rules. A rental property company can assist in all processes to make your experience as a tenant or property owner more enjoyable.