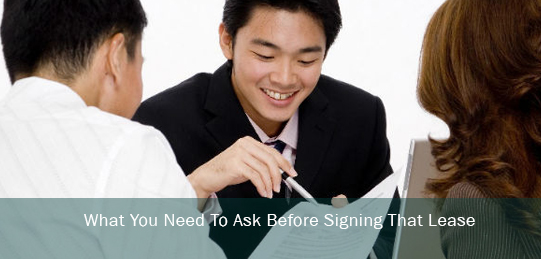 It is more than tempting to sign the lease immediately once you find the apartment, condo or home of your dreams. However, there are very important considerations to keep in mind before you place your signature on the dotted line. For instance, letting the landlord know that safety is animportant aspect for you can be done in a number of ways. Asking questions, however, is the perfect way to get a handle on a number of key aspects. According to experts at Latitude Properties Limited, you'd be wise to ask the following:
Can you tell me more about the neighbourhood?

Are all appliances functioning properly?

Has the space passed mold inspections?

Do the premises feature a fire extinguisher?

Is the complex or building safe at night?

Have you changed all the locks?

Are window treatments included in the price?
Getting More Info On The Neighbourhood
For starters, it doesn't hurt to investigate the crime rate in the neighbourhood and do your own research. Valuable resources include sites like SpotCrime.com, CrimeMapping.com, and CrimeReports.com. Also, existing residents in the building should be a good source of information. However, remember that landlords aren't allowed to talk about sexual orientation, age, religion, race or crime rates. They're prevented from talking to you about the demographic makeup of their neighbourhood thanks to the Fair Housing Act. Keep that in mind.
Functionality Of Appliances Is Crucial
Latitude Properties Limited suggests that a landlord needs to make sure that all of your appliances are in working order before leasing you an apartment. This goes especially for things that use gas, like stoves. To minimize any risk of this, make sure not to sign the lease until you've checked the water taps, fridge and stove burners in your apartment.
Make Sure Your Apartment Has Been Checked For Mold
As a general rule, homes or apartments should be tested for mold every 5-10 years. Mold is particularly common in older buildings and can cause serious problems like eye irritation, headaches, respiratory issues and allergic reactions. Due to the fact that it can grow in attics, drywall and crawl spaces, be sure to ask your landlord whether or not the apartment has passed mold inspections.
Latitude Properties Limited Tip: Inquire About The Existence And Location Of A Fire Extinguisher
Even though fire extinguishers are considered standard and most apartments do come with them, find out if the same applies for your apartment. Additionally, ensure you're told where it is if you need it in a case of emergency. However, if your apartment does not come with a fire extinguisher in an easy-to-grab location, you'll want to get one and keep it in your kitchen for easy access.
Ask About Safety During Nighttime
Ask if you'll park your car in a garage or an open lot? Is the lot covered? Is it well-lit and gated? What are the concierge hours? These are all important questions to ask your landlord. The professionals at Latitude Properties Limited also recommend asking the landlord to show you the lighting in the parking area and the apartment complex. Ultimately, it might also be a good idea to visit the complex personally at night in order to view everything yourself.
Learn Whether The Locks Have Been Changed
It stands to reason that your locks should be changed before you move in. However, because some apartment owners rotate the locks between apartments, remember to specify that new locks and not recycled ones need to be placed on your doors. This is very important to specify because such landlord practices could easily allow someone with bad intentions to break into your apartment by saving the keys to old locks.
Latitude Properties Limited Tip: Ask About Window Treatments Being Included In The Price
You'll need to find out if you'll need to buy your own window treatments or not, since they're paramount for safety and privacy. There are many reasons why you don't want passersby to peer into your apartment. If they aren't provided, it is important to have curtains, drapes or blinds installed as soon as possible.
Ultimately, keep in mind that a little caution goes a long way. Also, remember to keep an eye out for Latitude Properties Limited real estate. Latitude is home to prime residential and commercial properties and may very well be where you find your next dream apartment. You can't go wrong if you go pro.