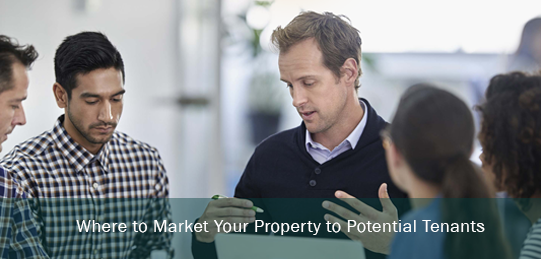 When marketing rental commercial property, it's crucial to position your advertising to attract the specific type of tenant or business you're looking for. Successful commercial property management companies use different types of targeted advertising. This takes into account several variables, such as: style of advertising, desired tenant pool, type of commercial property, and budget. These determine where to focus your marketing efforts, as well as how to display the rental property, whether it's in located in New York, Lisbon, or Waterloo.
There are two key areas to use for advertising: print and online.
PRINT
 Advertise in the classified section of newspapers, and in trade magazines geared towards the business or industry you want to entice. Most are mirrored online so you get twice the traffic.
Billboards on busy traffic routes in the business end of town are especially effective during rush hour. Use eye catching pictures with key words and an easily remembered website address – commuters must keep their hands on the wheel.
Don't forget a professional 'For Rent' or 'For Lease' sign on a property or in a store window. For industrial properties, make those signs large and easily seen when posted on walls or fences with bright colored wording and an indicative photo or picture.
ONLINE
Specially targeted internet mailing lists can get your advertisement to thousands of potential clients, and is an integral part of direct marketing.
Free websites like com and kijiji.ca let you post commercial property rental ads based on location – anywhere from Corpus Christi, Texas to Waterloo, Ontario. Trulia.com, which can be seen anywhere in the world, also allows free postings. Or you can pay to advertise on a site like Rentals.com
Most local newspapers are online and you can post in their classified sections. Don't forget the classified sections of community websites, or state or province-specific sites as well.
∙     Making a web page for your property allows unlimited space for property descriptions and pictures. For example, use a pre-designed template on Google's Blogger.com then just add words and photos.
Create a Facebook page for your listing and team it up with Twitter to keep people regularly updated on your properties.
If this is a part-time or full-time commercial property management company business, build a dedicated website for your rental properties.
Get a big bang for little cash with YouTube – upload a virtual tour of your property then post it to your website and all your social media accounts as well as Craigslist and Kijiji.
If you've neither the time, interest nor patience to handle your own advertising and market your property, then hire a realtor. As well as professional marketing, your property will be listed on the Multiple Listing Service (MLS) which increases your exposure. Or hire local commercial property management professionals who will not only market your property, but handle the showings, screenings, and complete all the paperwork too.
Whether you hire a professional or do it yourself, remember, potential tenants will search in a variety of places, so don't confine yourself to just one or two venues, especially if your commercial property is extensive, like a mall or manufacturing plant. Using a variety of locations makes for more effective marketing, and increases your chances of finding the perfect tenant for your specific commercial rental situation.