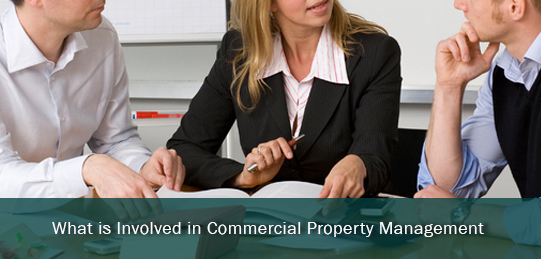 Commercial Property Management is not unlike residential property management in most basic ways – collecting rent, handling repairs, creating reports. However, there are many different forms of commercial property. To be both efficient and effective, a successful commercial property management company must customize these basic services for each and every one – something that's more complex than you might imagine.
According to Wikipedia, "Commercial property includes office buildings, industrial property, medical centers, hotels, malls, retail stores, farm land, multi-family housing buildings, warehouses, and garages."
As you can well expect, there would be quite differing things to deal with when it comes to managing industrial property (see previous blog, 'Managing Industrial Property Successfully) as opposed to a medical center or an office building.
THE BASICS: To start out with the basics must be dealt with such as collecting rent, negotiating leases, and supervising cleaning and maintenance activities. Those involved in commercial property management must have strong communication and customer service skills, as well as exceptional multitasking and organizational abilities. However more is needed at different levels because commercial real estate encompasses several categories, and each has its unique needs and challenges.
KNOWING THE LAW: It's imperative that the commercial property management service be knowledgeable about building and legal codes – as there will be different laws and restrictions applied to different property uses and the activities that take place there. It's also essential to keep on top of any changes in legislation on an annual basis. You don't want costly mistakes or missteps to affect the business or businesses – or the bottom line.
MANAGING VENDORS: Another key activity is the management of vendors – and we're not only talking about store owners who rent space in an anchor mall. A commercial property management service must oversee all service providers which in many cases could include the proper maintenance of escalators, elevators, and hoists – as well as dealing with security personnel or firms, and industrial or medical waste disposal companies.
HANDLING SECURITY: When it comes to managing commercial property, security is a major concern. It's important to understand the security challenges of each commercial property, and then apply the appropriate measures. It could include setting up security systems, hiring security people or firms as well as the placement of electric fences, security cameras, monitored alarms, or electronic and biometric access controls.
DISPOSING OF WASTE: Garbage disposal at certain commercial properties reaches a whole different level when you take into account medical practices and industrial buildings. For the medical field, there are very specific regulations around the disposal of certain bio materials. There are also many laws – and different laws in each province or state – around the disposal of many kinds of industrial waste. Each must be followed to the letter.
ENSURING SAFETY: Commercial property management services must always take safety into account. What constitutes proper safety procedures at each of the commercial properties being managed? Ensuring that proper equipment and clothing is not only available but being utilized is part and parcel of managing commercial property. Both must be in good condition and maintained to peak performance. Proper safety procedures must also be adhered to.
As you've seen, there are many levels and unique concerns for the different areas covered under the term 'commercial property.' It's important to manage them appropriately in every category. Some commercial property management companies do this by specializing in only one or two forms of commercial property. Larger companies may dedicate separate divisions to enable them to handle many kinds of commercial properties. In either case, it's the constant, meticulous attention to detail that makes the best companies stand out, and succeed.