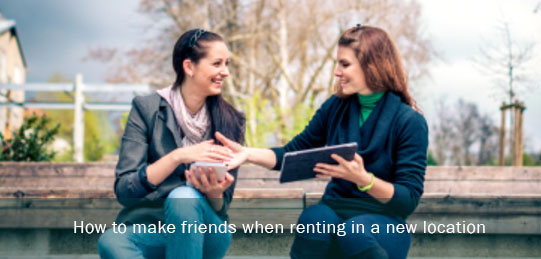 Moving to a new rental property can be tough, especially if you are living in a new neighbourhood or completely different city. You may have moved away from family and friends and soon find you are lonely. Making new friends can seem intimidating but it doesn't have to be. If you are using a rental property management company to find your new home, consider having the company search for areas where people your own age live. By living in an area surrounded by your peers, it can help you to quickly make friends.
Establishing a new friend group
It can be hard to establish a new friend group, especially if you are shy or have trouble making friends. When moving to a new area, your neighbours will be naturally curious about who you are. Consider making a few treats and taking them to your neighbours as an introduction. If you can't bake, buy store bought cookies. You can easily begin a conversation with neighbours and get to know each other by introducing yourself and breaking the ice with a nice treat. Below are a few more tips to help you meet your neighbours and hopefully make some new friends.
Attitude
Your attitude needs to be one that is positive and friendly when meeting your neighbours and even new co-workers if you moved due to your job. Be sure you are outgoing and friendly to everyone you meet. Smile to others, make eye contact and say hello. You never know, you might meet your new best friend by simply saying 'How Are You Today?' When meeting someone new, ask for their name and explain that you are new to the area. You can even ask about local restaurants or things to do as an icebreaker.
Attend Events
If you are asked by your neighbours to attend an event within the complex, do so. A game night or dinner party is a great way in which to get to know new people. If you say no from the very beginning, they may not invite you again. However, if you feel uncomfortable with the person handing out the invitation, do not accept. You are not obligated to attend events but should do so with those you feel a connection with and want to get to know better.
Remain Visible
If your apartment building has common areas, spend time in them. Being seen gets you noticed and others will approach you. If there is a swimming pool, go for a swim or lay out and enjoy the sunshine. If there is a game room, join in a game with others. Patio areas are a great place to meet others or going for walks around the property. By spending time in such common areas, especially doing things you enjoy, you can find others who like the same activities. This will help you to make new friends in your new home.
At Latitude Properties, we assist individuals in finding new homes to rent. Let our team of professionals find you a home that meets your living needs, in an area where you can make friends and live among individuals your own age that have similar interests and work affiliations.