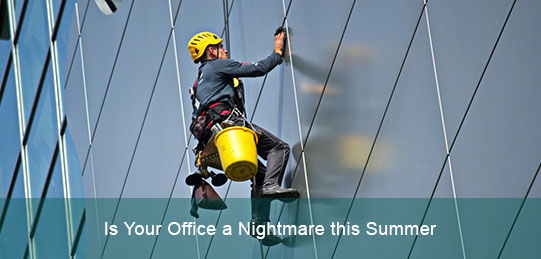 Office space requires regular maintenance for all of the utilities and essential systems to work properly. If you're running or renting office space, repairs before the beginning of the summer will ensure that the space functions smoothly throughout the season. Here are a couple of issues that need looking into if you want your office or the business facility to operate hassle-free throughout the summer.
Tight Seal for Safety Purposes
Make sure that all of the doors, windows and fans in your office are securely fastened. Preventing and avoiding air leaks is not only for the sake of convenience but also a safety precaution. You don't want any imbalanced blades that could be a safety hazard.
Perform Small Repairs to Prevent Major Accidents
If you weren't paying attention to the matter of smaller parts, such as vents, filters and hoses, you could be risking major accidents. On larger properties, these maintenance tasks are best handled by professionals. They will handle changing furnace filters, vacuum the dryer vents and inspect water hoses, remove any fire and water damage risks.
Property management requires the timely maintenance of the entire heating/cooling system. If you're not up for handling these repairs on your own, a professional property management company will maintain these systems in their best shape for top performance. Proper temperature and quality of the airflow require changing and cleaning filters, appliance upkeep and timely servicing.
Some of the most common tenant complaints include leaky faucets and clogged drains. Though these issues are easiest to fix, they can cause major water damage if neglected. This is why getting a professional to handle the inspection and timely repair can save you not only damage costs, but also time wasted handling the issues. These issues often don't appear urgent to address, but easily turn into a major crisis.
Before the summer begins, check electric outlets to make sure they're all working properly, as well as detecting any frayed wiring. These inspections are crucial to prevent accidental fires, which is also best done by Kitchener property management experts.
Provide Spare Keys and Install Safety Lockboxes
Last, but not the least, providing the spare keys and installing a safe lockbox is an important step to prevent lockouts. An office needs constant monitoring and checking for issues and small breaks, as well as protection from intruders. Providing spare keys for people of trust to gain access in case of emergencies is a wise thing to do. Yet, it is another hassle an owner rarely has the time to handle. Instead, property management will handle this issue; installing lockboxes and making sure the keys and the locks are in good shape in your Kitchener office.
Need Help With Repairs? Latitude Properties is Here for You
From small issues like leaky faucets to major ones, such as air conditioning and swimming pool maintenance, most facilities need the help of property management companies such as Latitude Properties. Timely inspections and repairs will ensure year-long safe business running without accidents disrupting your work.