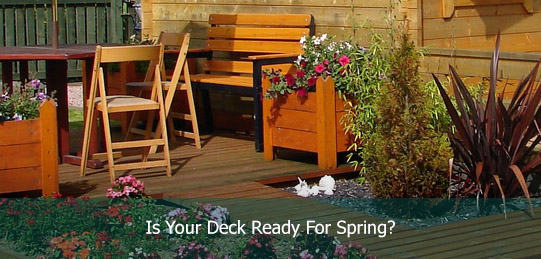 Having a deck on your property can offer a beautiful way to witness and enjoy the coming spring. This goes especially if your property has natural landscaping and plenty of trees. Because decks are typically made of wood, you need to ensure it is ready for the spring season in order to make the most of it. Winter can take its toll on decks, which is why spring inspection and maintenance are very important.
Most Common Types Of Decks
When it comes to wooden decks, there are several types that are most commonly found in people's homes. These include:
Natural redwood decks

Cedar decks

Pressure-treated pine decks
Natural Redwood And Cedar Decks
The first step in preparing these types of decks for spring is performing a detailed visual inspection. This is important to make sure there is no damage after the winter season. Things to look for include mildew, rot and even nails that have popped out; it is crucial to check the entire structure as well as the underdeck. Because rot can appear in different ways, pay attention to the splintering of the wood, discoloration, soft spots and loose areas on the deck. However, if you notice rot at the connection of the deck and structure, it is time to bring in a professional. (In need of professional property management services? Go to www.latitudelimited.com.
Pressure-Treated Pine Decks
While similarly vulnerable to rot, a pressure-treated pine deck is slightly less susceptible to damage. This is thanks to the production process of companies that make pressure-treated wood. These companies make one type of wood specifically for ground contact and another type used for above-ground construction. Rot will occur if the type used for above ground construction touches the ground and is exposed to moisture. If your deck is made with pressure-treated wood, check the ground posts and stair stringers in particular during the inspection.
General Things To Look Out For During Spring Deck Inspection
Rot is the typical culprit for most deck damages depending on the scale of it. If you find rot only on the edge of wood boards, you can have them cut off and replaced with new wood. If the rot is more extensive, you could end up having to replace larger sections or the entire deck.
Wintertime can also result in mildew appearing on wood decks. While easier to treat than wood rot, some people make the mistake of using bleach to try to get rid of it. This is wrong, as bleach can discolor and damage walkways, paint, and sidings in addition to harming plants. Ideally, you want to use a manufacturer-recommended wood cleaner or pressure washer. (Looking for more tips on how to increase your property's curb appeal in addition to spring deck repairs? Check out www.latitudelimited.com.
The Advantages Of Professional Residential Property Management
Spring deck inspections and maintenance are one of many property management activities that owners, landlords and property managers alike need to do after winter. Property management services, in general, are very time consuming and complicated. Instead of trying to take care of every little thing on your rental property by yourself, try putting a professional property manager in charge. Property managers at Latitude Properties Limited have both the experience and the know-how to ensure your entire property remains in pristine condition, including the decks. With professional management, your property will be thoroughly checked and maintained after every winter to prepare it for the oncoming spring rental season. Contact Latitude today and benefit from its A+ team of expert property managers.