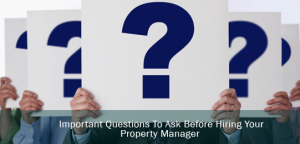 As you consider hiring a property manager, it is important to evaluate the company you would be working with. Ask questions to ensure that the company will be able to provide you with every service you need for your rental properties. But what questions should you ask? Read on below to see a few ideas to help you choose the right property manager.
How Much Experience Do You Have?
To begin, you want to know how much experience the manager has with rental properties. Find out how long the company or individual has been in business and how many rental properties they have managed. You want to work with a company that has experience so that your properties will be well-taken care of.
What Services do you Provide?       
It is also important to learn what service options you will have access to. For the most part, property management companies will handle the customer service side such as taking care of repairs and maintenance, taking rent, deposits, etc. You may also be interested in marketing services, what software is used to keep track of renter information, social media, online presence and more. Make a list of services you would like to have access to and see if the company meets this criteria.
What Categories Are Available?
Property management companies can specialize in certain types of rental properties such as residential or corporate. Consider what type of rental properties you own. Would you benefit from a corporate property management service or more so with residential services? You want to hire a company that will provide you with service options for your specific category of business. If you focus on vacation or residential homes, then you would want a residential rental management specialist. For commercial property, a corporate property manager would be ideal.
How Would They Handle Customer Complaints?
Property management companies will take the brunt of complaints from renters. You need to be sure that you are working with a company that can provide quality customer service. Managers need to be able to deal with difficult clients and respond accordingly. Find out how the managers react to certain situations to ensure that any issue with renters will be handled with care.
Communication
Communication between you and the property management team is also important. You need to be able to communicate with the manager's to see what exactly is going on with your properties. Take time to get to know the managers you are considering working with. Do you mesh well? Are you able to speak freely and feel comfortable doing so? What communication options are available? Make sure you have multiple ways of contact including Skype, email, text or telephone.
Asking these questions and finding out information about the rental property company will ensure that you are able to hire a group that will properly assist you with management needs. Contact Latitude Properties Limited today to learn what options are available to your company and how you can benefit from working with experienced property managers.