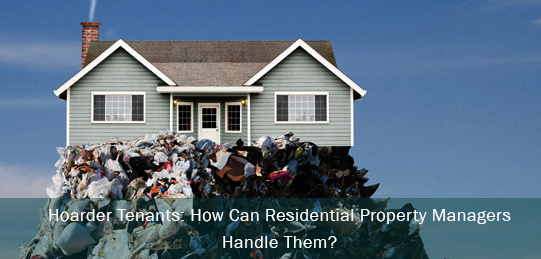 As a property manager, it is your job to handle the tenants of your client. Residential property management services provide the client with one-on-one customer service for every tenant. You will be in charge of rental payments, the maintenance and upkeep of the property as well as dealing with any client issues. When it comes to rental properties, a common occurrence is hoarding. When a tenant is a hoarder, it can mean that the property is under duress due to unsanitary living conditions, the home may be a fire hazard or at risk for damage. As the property manager, it is your job to handle the hoarder, but what can you do?
A Mental Disorder
Hoarding is a mental disorder that affects many people. There are several types of hoarders. Some people are attached to things and will stuff the home to the brim with items that they care about. Some people do not throw away anything due to some significant value or feeling they have so the home can quickly become overwhelmed with garbage and other items.
What Can You Do?
Depending on the hoarder's behavior, you may be able to constitute the situation as a non-economic breach of the lease. This could be grounds for an eviction. You cannot evict someone for hoarding but you can evict for other reasons. If the property is damaged, you have the right to evict. All emergency exits have to be clear, ventilation areas must remain open, mold or rodents due to perishable goods as well as animal housing that breaks the law are a number of reasons giving you the ability to evict.
With your position as the property manager, you must take action. Take time to visit the property and document the condition of the home with pictures/video and notes. Offer to help the individual by providing counseling for hoarding and clean-up services. Give notice to the tenant that they must remedy the issue or face eviction. Consult with an attorney to see what rights your property owner has and what can be done to the tenant if the condition of the home does not change. Eviction may be necessary but you want to be sure that you are within the means of the law to do so.
There is a fine line between a dirty home and a hoarder. Take time to evaluate the property efficiently and give the appropriate notice. Whether the home is simply not being taken care of or a hoarding situation exists, you have to protect the property owner and ensure the home is being taken care of properly.
At Latitude Properties, we have dealt with hoarding situations in the past as well as other common rental property issues. Let our experts handle your rental property management needs so that you can rest easy knowing your properties are cared for and are providing a steady stream of income. Contact our office today to see what we can do for you.